EaseUS Data Recovery is an ultimate Windows PC Solution that easily restores lost files, pictures, videos, documents & whatnot. Any file that is deleted by mistake or lost due to formatting errors, partition loss, OS crash, virus attack, or any other data loss scenario can be recovered through EaseUS Software.
Introduction – EaseUS Data Recovery Wizard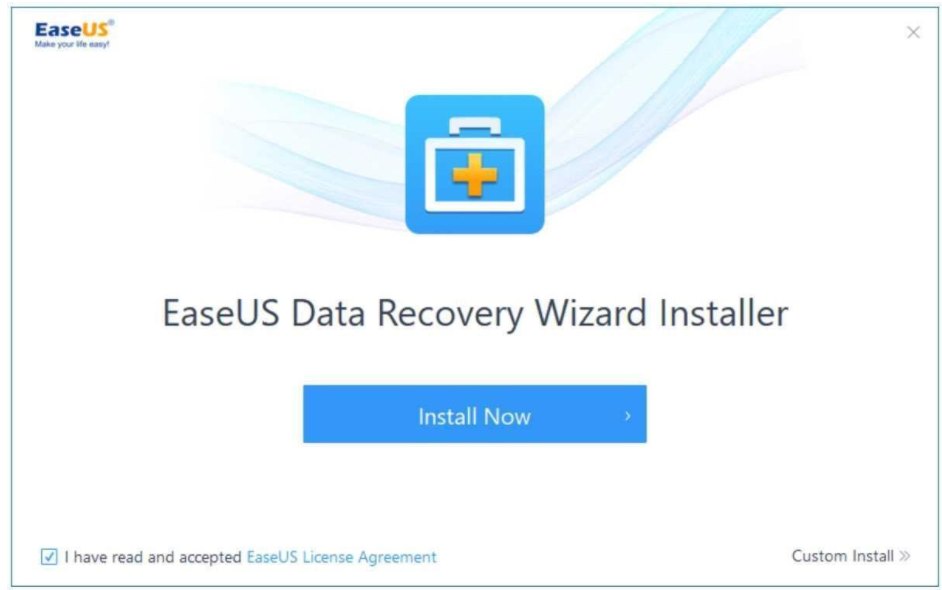 EaseUS Data Recovery Wizard is best-known on the market for offering ultimate recovering solutions that help users to retrieve lost or deleted data easily and quickly. The company provides both paid & free versions of the product. The pro version is an affordable solution with some extraordinary bunch of features that lacks in most of the Best Data Recovery Software.
It's a reliable solution to recover more than 1000 types of files from USB Drive, Memory Card, Hard Drive, Mobile Phone & other External Hard Disk. No matter what data scenario you are dealing with, drive damages, malware attack, software crash, or other technical jargon, you can get your lost files back in a few clicks using EaseUS Data Recovery Wizard.
A Brief Overview: EaseUS Data Recovery Wizard
EaseUS Data Recovery runs on advanced algorithms that ensure no sensitive data or file is damaged during the recovering process. Unlike other best data recovery tools, EaseUS strictly works on the 'Read-only' principle & focuses on the preservation of data. So, that nothing is overwritten while restoring essential files.
The file recovery software works perfectly well for both personal & professional users. If you are someone who stores some valuable yet vital information on your system, you should consider using EaseUS to protect your files. It is compatible with dynamic disk drives & all Windows file systems, including FAT12, FAT16, FAT32, NTFS/NTFS5, exFAT, HFS+ & EXT2/EXT3.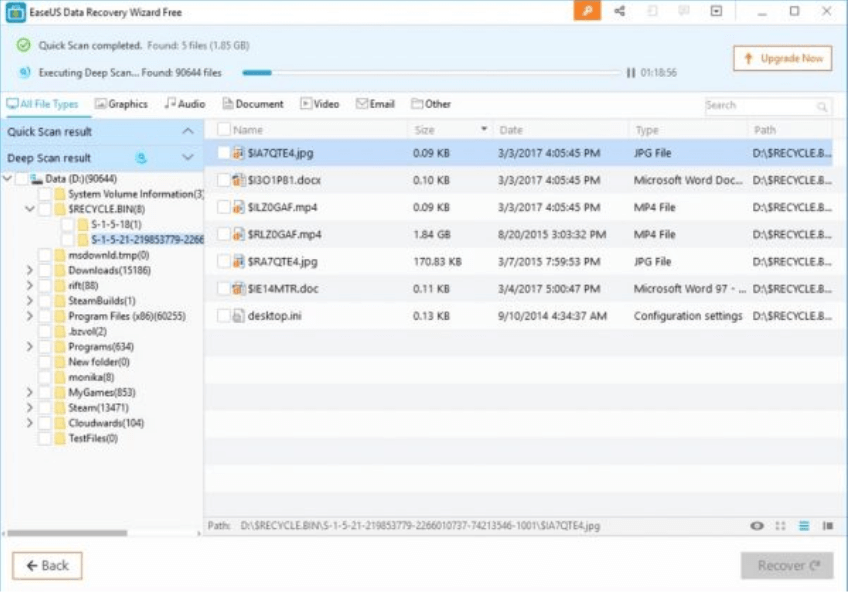 Starts from
$
69.95
per year
Advanced Partition Recovery
Detailed Sector-Wide Scanning
Filters For Accurate Results
Recovers data from any storage device
Scan to Recover Any Type of File
Scans External Drives & Cards
Data Recovery & Protection
Guaranteed Recovery Features
Rescue For All Data Loss Situations
Software & Hardware Requirements
Here are the minimum perquisites, you need to follow to use EaseUS Data Recovery Software.
Operating System: Windows Server 2003, Windows Server 2008, Windows Server 2012, Windows XP, Windows Vista, Windows 7, Windows 8, Windows 8.1, Windows 10.
Disk Space: To install EaseUS Data Recovery Wizard, you should need a minimum storage space of 32 MB.
RAM: Minimum 128 MB.
CPU: Running at least x86.
File System: FAT (FAT12, FAT16, FAT 32), exFAT, NTFS, NTFS5, ext2, HFS+
Observing the aforementioned system requirements, it means you can run EaseUS Data Recovery Software with any type of system with minimum configurations.
Pros:
Fast scanning engine.
Ensures preservation of data.
Bootable media from crashed systems
Great Customer Support
Cons:
The pro version is a little expensive
No specific folder data recovery
Top Alternatives Of EaseUS Data Recovery Wizard
Provider
$ Per Year
Top Features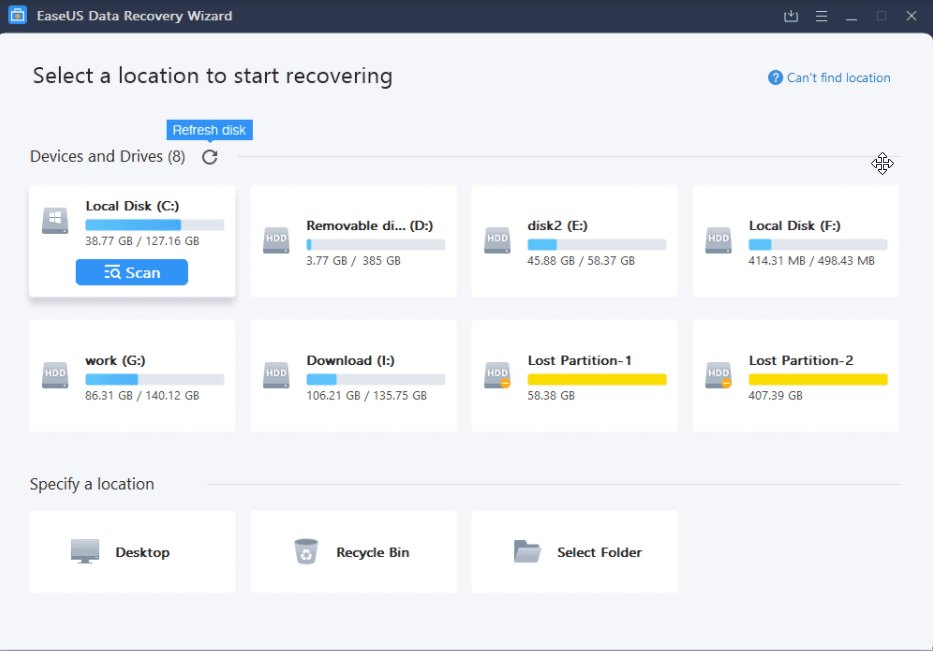 A user-friendly interface of the product makes it a popular choice among the masses. This is exactly what EaseUS Data recovery has to offer with its easy to understand interface. With all the mentioned options on the tool, it becomes very easy to navigate around it. This is the first thing which will make a good impression on a first time user as everything can be found easily placed on the home screen. This works in the favor as it directs the user to a simple data recovery path.
EaseUS is power-loaded with several useful features like:
Easy To Use Dashboard
Has clearly labeled buttons & easy to navigate modules, making it one of the best data recovery and management utilities for PC.
Recover Unlimited Data
EaseUS Data Recovery Wizard premium version works to retrieve unlimited amounts of data in a single scan. Additionally, once you purchase this file recovery software, you can enjoy the software updates for a lifetime.
Supports a Plethora of File Types
It's the best data recovery utility that lets you restore almost all data types, including Photos, Videos, Documents, Music Files, Text Files, and so on.
Recover Lost Partitions
Accidentally deleted the entire partition? Well, use EaseUS Data Recovery Wizard to restore lost or deleted partitions without any hassles.
Different Types of Scanning
EaseUS supports various types of file scanning, including Quick Scan, Deep Scan, and RAW File Scanning. Depending on the amount of data, scanning modes can take time and recover different file types.
Preview Option
EaseUS allows users to preview all the files before restoring them. You can have a quick look at all the data, photos & other media before retrieving them once & for all.
Save or Pause Scanning
Scanning process taking longer than it should? Well, you can save the scanning results and resume them again whenever you get time.
Bootable Media
One of the best features an ideal Data Recovery Software can have is the ability to recover data in a scenario, wherein, the system denies booting. Don't worry; you don't have to format your PC, to login into the system again. You can use EaseUS Data Recovery Wizard & recover essential files before anything overwrites the data you are trying to retrieve.
Now that you've explored all the features of this brilliant file recovery software for Windows, now it's probably time to learn how to use the product.
Updates for any product are very important to run smoothly with the operating system. EaseUS Data Recovery has the convenience of updates as it gets automatic updates on the product. The product running on your computer will regularly look for any updates weekly. Although it also gives the user the option to check for updates manually with the Upgrade button. This will instantly check for updates for any new version of the product. An internet connection is required for checking the updates or getting the upgrades on your computer.
Pro

1 PC, 1 year free upgrades

Pro+Win

1 PC, 1 year free upgrades, Recovers data at system failures.

Technician

Licensed, Unlimited PC, free upgrades with subscription, Recovery Assistance.
EaseUS Data Recovery pricing starts at $69.95 per month/per user. However, you can go for its free version that is available for Mac, Windows, Android (Native), iOS (Native), Cloud, SaaS & Web. You can even have the 1-Year plan for $99.95 & get the different plans for Technician License on 1 year, 2 years, or lifetime basis.
All the plans offer free upgrades, a license for one computer, and a 30-day money-back guarantee.
While speed matters a lot for the software, here as we are attempting to recover the lost data, one needs to be a little more patient. EaseUS Data Recovery, just like any other data recovery application, will take a long time to scan and then retrieve the data for you. Mostly the recovery time is decided by the factor of which version of the application you use and how much data is lost. If you have anything below 2GB, you can rely on a fast recovery. But if you are looking for a larger portion of the data to be recovered, it is advisable to use the EaseUs Data Recovery Pro for faster results. Another important factor that will decide the speed for recovery for your computer will be how well you use the filters to specify the type of data to be recovered.
Overall, EaseUS can take a typical time for data recovery as any other software and is capable of distinguishing between hundreds of file formats.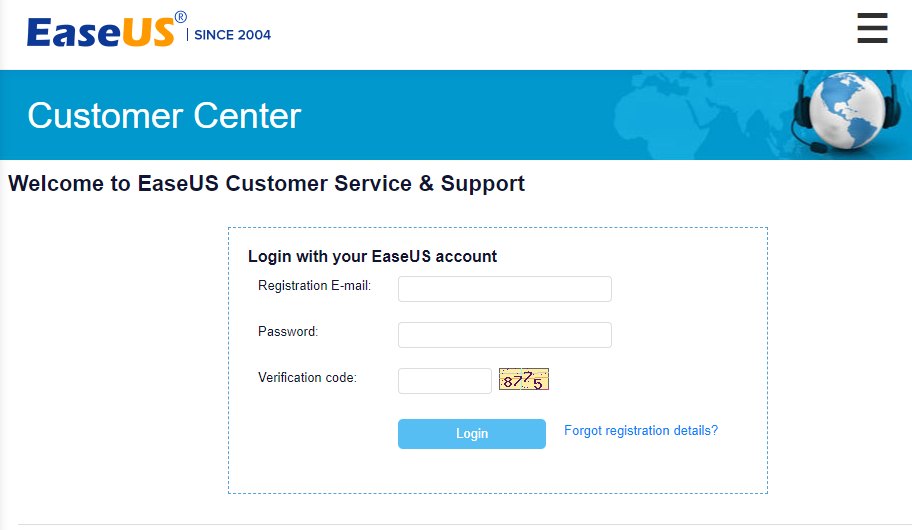 EaseUS has very good customer service as it offers a bunch of options to its customers. The dedicated support page where you can log in with your EaseUS account is there to help you. If you are not registered, you can Signup before logging into the customer support page. Other than this, you can directly leave a mail on the below-mentioned email address for all kinds of queries. For free technical support, EaseUs has the LiveChat option which allows you to contact them directly. It is available from 9:00 AM to 5:30 PM UTC+8. Leave a message or mail for your questions and you will get a response within 20 hours. You can also check out the support page for online help, video tutorials, and knowledge base documents.
Check out the customer support for EaseUS Data Recovery that are as below:
For Data Recovery related queries contact at – support@easeus.com
How To Use EaseUS Data Recovery Wizard?
Once you have installed the file recovery tool for your Windows machine, follow the step by step process to start recovering deleted and lost files quickly.
STEP 1- As soon as the installation gets completed; launch EaseUS Data Recovery Wizard on your PC & select the location you wish to scan for recovering your lost files.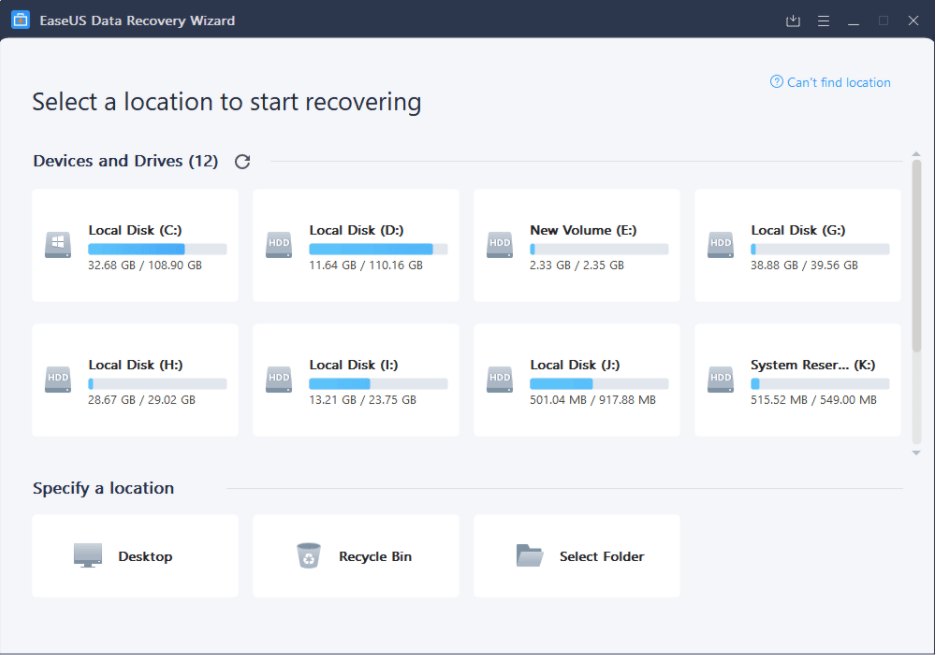 STEP 2- Start the scanning process to begin retrieving your precious files. You can pause the scanning process at any time & resume it later.
STEP 3- A list of lost & deleted files would be presented to you. You can preview the results & see which files you want back.
STEP 4- Click on the Recover button to have all your important data back again on your desktop.
Is EaseUS Data Recovery Safe To Use?
The file recovery software is considered pretty safe and secure when it comes to the safety and privacy of its users. EaseUS runs on a 256-bit SSL standard, which is the highest measure for the encryption of data.
Is EaseUS Data Recovery Wizard Multilingual?
The data recovery software is compatible with not only English but also with other popular languages such as German, Spanish, French, Portuguese, Italian & many more.
What Files Does EaseUS Data Recovery Wizard?
Data recovery has no issues when it comes to supporting different file types. Here is a list of popular supported file types:
For Documents:
DOC, DOCX, HTM, HTML, PPT, PPTX, XLS, XLSX, PDF, CWK, INDD, EPS & more.
For Photos:
JPEG, JPG, TIFF, TIF, GIF, SVG, MRW, CRW, PSD, NEF, ORF, SR2, SCE, WMF, RAW, SVG, and more.
For Audios:
WMX, APE, RealAudio, MID, MIDI, OGC, DBX, M4V, MPG, MKV, WAV, MP3, AIF, M4A, and more.
For Videos:
MOV, AVI, 3G2, WMV, MKV, ASF, FLV, SWF, MPG, 3GP, MPEF, RM, RMVB and more.
Other Compatible File Formats:
ZIP, RAR, SIT, ISO, EXE, SITX, PST, SBX, EMLX, etc.
Frequently Asked Questions: EaseUS Data Recovery Wizard
Here are some frequently asked questions related to using the product:
Q1. Can I Recover Data From A Formatted Disk Using EaseUS Data Recovery?
If the stored data on the formatted disk is not overwritten, the chances are high that you'll get data back using this data recovery tool. It depends on how your disk gets formatted.
Q2. Can I Use EaseUS Data Recovery Wizard To Restore Data From CD's, CDRs, Or DVDs?
No! EaseUS Data Recovery is designed for recovering data on Hard drives, USB flash drives, Smart media, Floppy disks, Multimedia cards, Compact Flash, and Secure Digital only.
Q3. I Have A Crashed Hard Drive, Can I Run EaseUS To Recover My Files?
Absolutely! As long as your hard drive doesn't have physical damage, you can run EaseUS Data Recovery Wizard to recover your data. This works because your data recovery software is read-only & will not make any changes on the crashed hard drive.
Q4. Is It Possible To Recover Files With Original Name & Directory?
Well, if you are restoring the data from a formatted partition, then you can certainly not recover the original file/folder name of the root directory. But all the files and folders in the subfolder are also recovered with correct names.
Q5. What Is The Way To Migrate My Product License To Another Device?
You can simply register your account with Customer Care. Further, add the order to your account and reset the license code. Once you reset that carefully, EaseUS Data Recovery would all be set to get activated on a new device. To know more about the process, click here: https://kb.easeus.com/other/90001.html.
Final Verdict
If your Windows system holds precious & vital data, then EaseUS Data Recovery is must-have utility software for your PC. It is easy to use, has a simple interface, offers timely updates & has excellent customer support. Recover huge amounts of data and different file types in a single scan with EaseUS Data Recovery Wizard.
You can always take the 30-day free trial with the money-back option & then decide if you want to purchase the data recovery solution or not. Anyways, what have you got to lose?