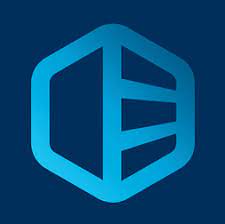 Driver Easy Review
Driver Easy Review: Is Driver Easy Safe and Legit?
Are you facing issues with your network adapter? Is it due to the outdated drivers but connecting to a network is hardly possible. So, here you can use Driver Easy which comes with an efficient Offline Scan feature. This and many more features help the Windows PC users to update the device drivers from their 8 million databases. Read Driver Easy review now to get more information on its price, features, and functions.
What is Driver Easy?
Before we dive deeper into the Driver Easy review, let's understand what it actually is. Driver Easy is a legit and it comes with two versions of its product – Driver Easy Free and Driver Easy Pro. You can choose either of them according to your choice. It comes with some of the advanced features on its Pro version. You can download and try it out on a 30-day money-back guarantee. The Driver Easy consists of several tools to help you maintain the device drivers on your PC. The driver's update can be kept as a log in the history feature.
You get advanced insight on your hardware with the Hardware Info section. Also with the backup and restore options help you rollback to the older version of the device driver if and when needed.
Scan Types
Automatic Scan
Manual Scan
Updates
Outdated Drivers
Programs
Scheduled Scan
Schedule Daily
Schedule Monthly
Schedule Weekly
Customer Support
Email Support
Phone Support
Reasons to choose Driver Easy –
Automatic and manual scans are available.
Backup and Restore Drivers.
Driver Database of 8 million device drivers.
Scans the computer offline as well.
Gives you detailed Hardware information.
Get Driver Updates History.
Regularly updates.
Free version available.
Scheduled scans.
Fixes system issues by driver updates.
Technical Specifications-
Current Version for Driver Easy – v5.7.0
Operating System – Windows 11/10/8.1/8/7 (both 32 bit and 64 bit)
Processor- 400MHz or higher.
RAM- 256 MB or more
Disk Storage space- 2MB
How To Install Driver Easy?
Installing the Driver Easy on your computer is fairly simple. Just follow the steps given below –
Step 1: Go to the official website of Driver Easy and select one of the two options – Driver Easy Free or Driver Easy Pro as per your needs. Here we began with Driver Easy Free.
You can also download Driver Easy on your computer with this link below –
Step 2: Double click on the downloaded setup file and then give the necessary permissions to run Driver Easy.
Step 3: Go to the Select Setup language option and select the desired language. And then start with the Installation by clicking on the Install button on the next screen.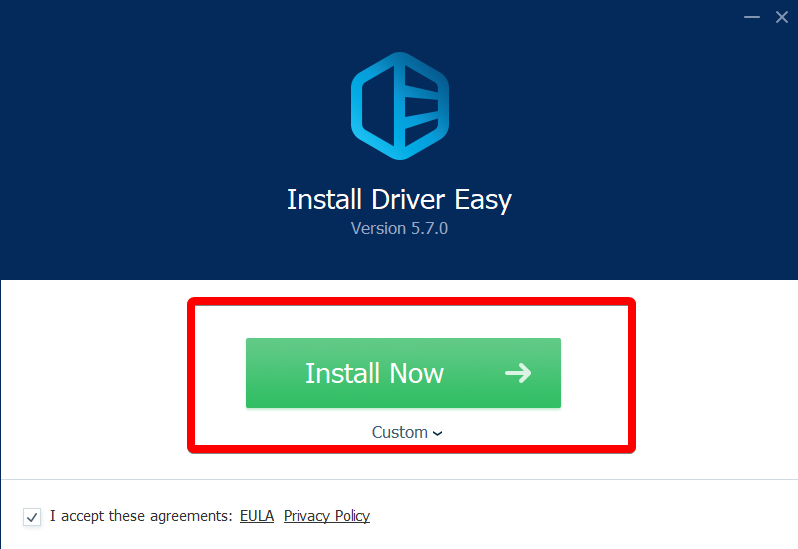 The installation is quite fast.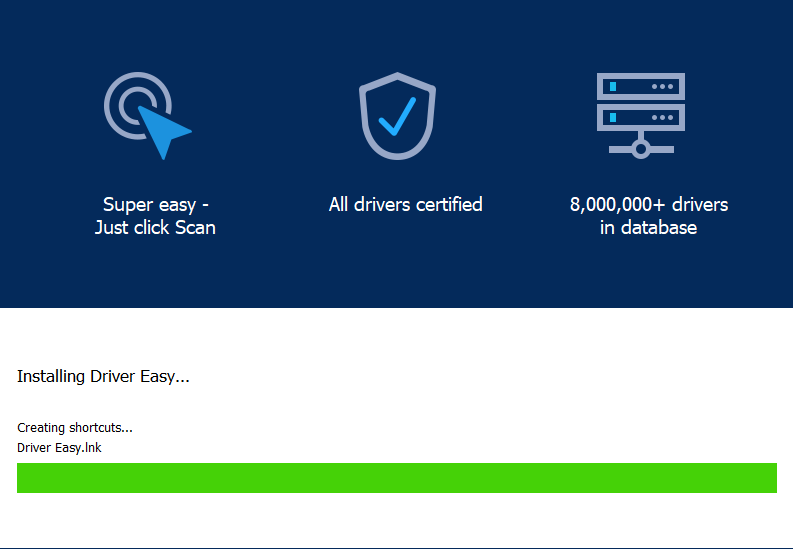 Step 4: Once the installation is complete, you can see a Launch button on the screen, click on it.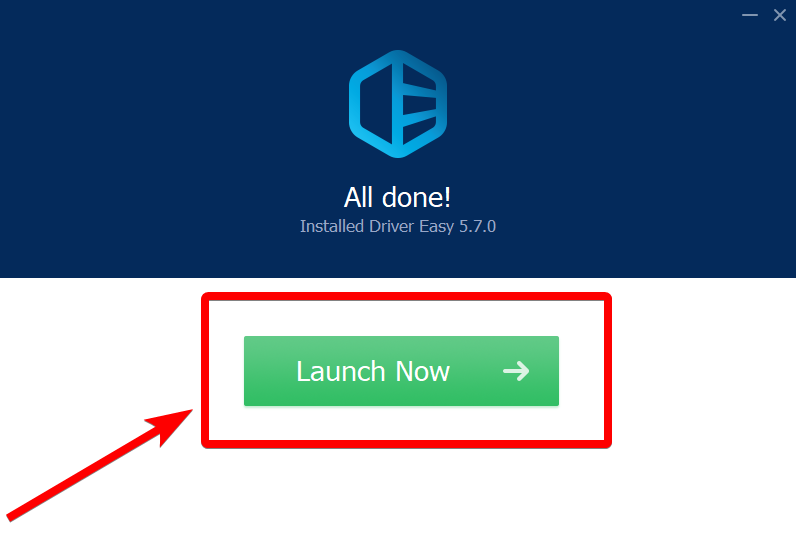 How To Use Driver Easy To Update Device Drivers On Windows PC?
To use Driver Easy safely follow the following instructions – 
Step 1: Once you have launched the product, you can either register it by clicking on Upgrade to Driver Easy Pro to avail of more features or continue with the free version. However, you can upgrade it at any given time. All you need to do is enter the license key after the time of purchasing.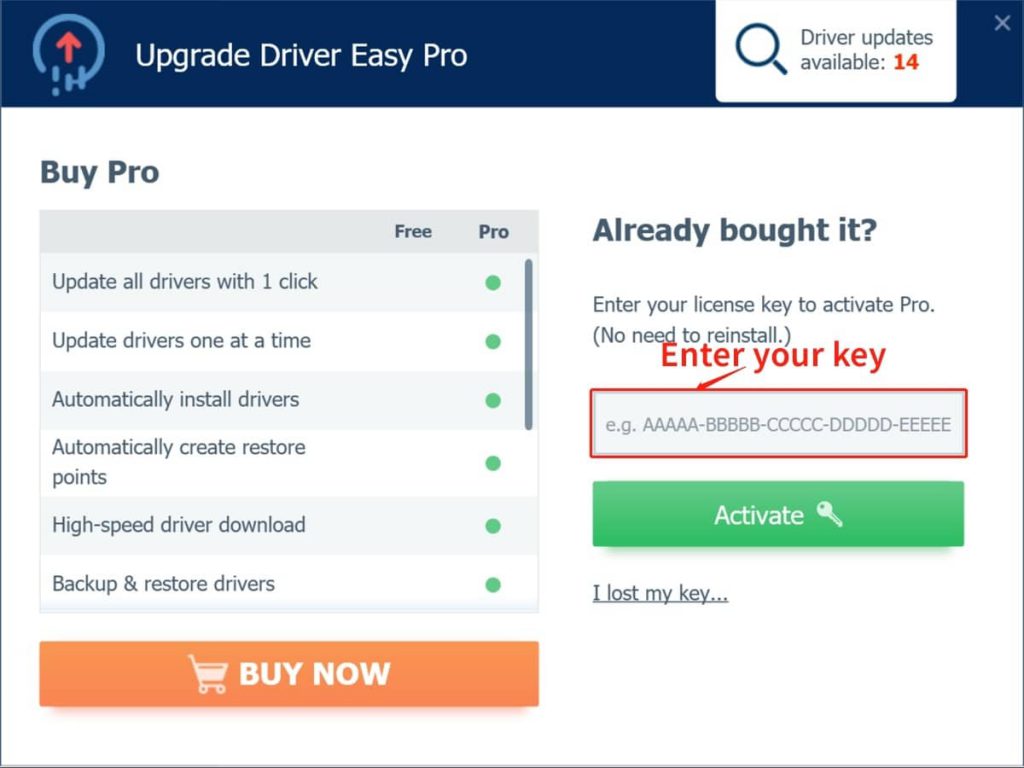 Step 2: The home screen will show you the Scan button and ask you to scan the computer now.
Click on it.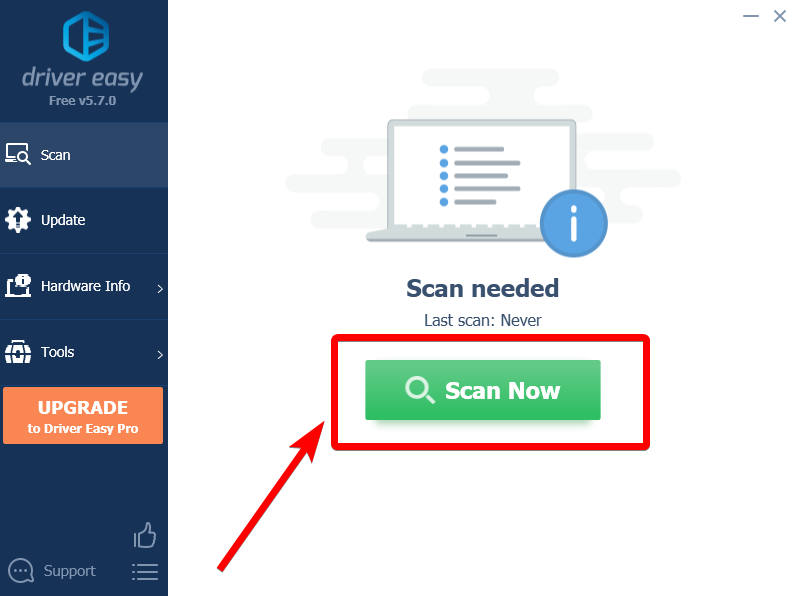 Step 3: Driver Easy will quickly scan the computer for the outdated device drivers.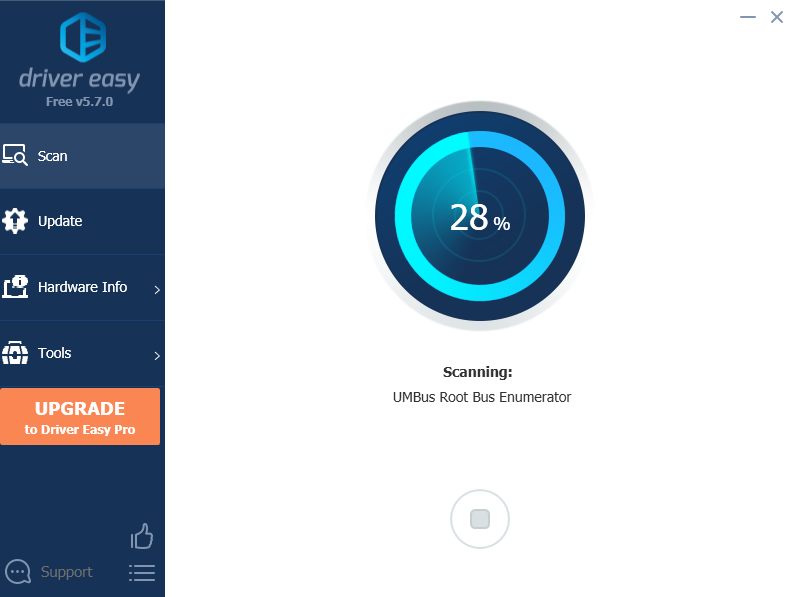 You can see the results on the next screen.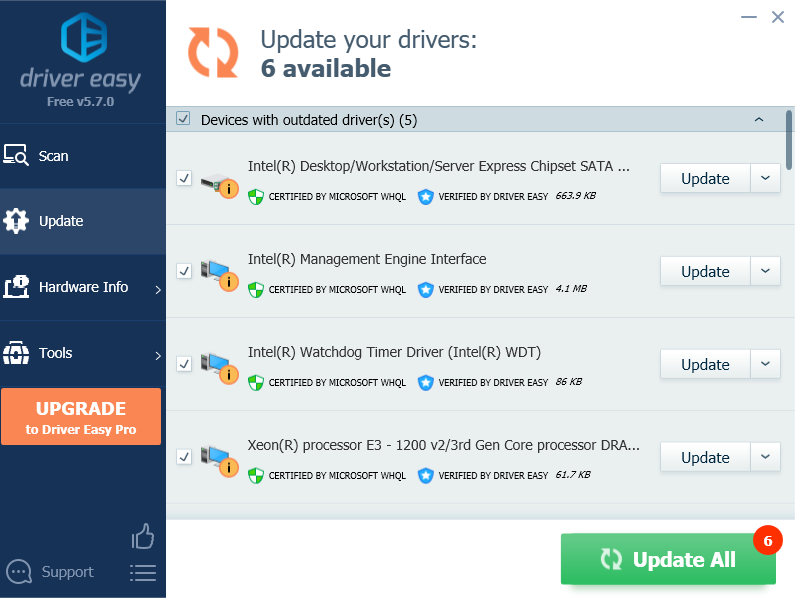 Step 4: The screen shows you the device drivers which are in need of updating.
Step 5: Now, you can simply go to the Update All button and get all the drivers updated at once if you are using Driver Easy Pro.
Otherwise, you will be prompted to Upgrade to Driver Easy or update each driver individually.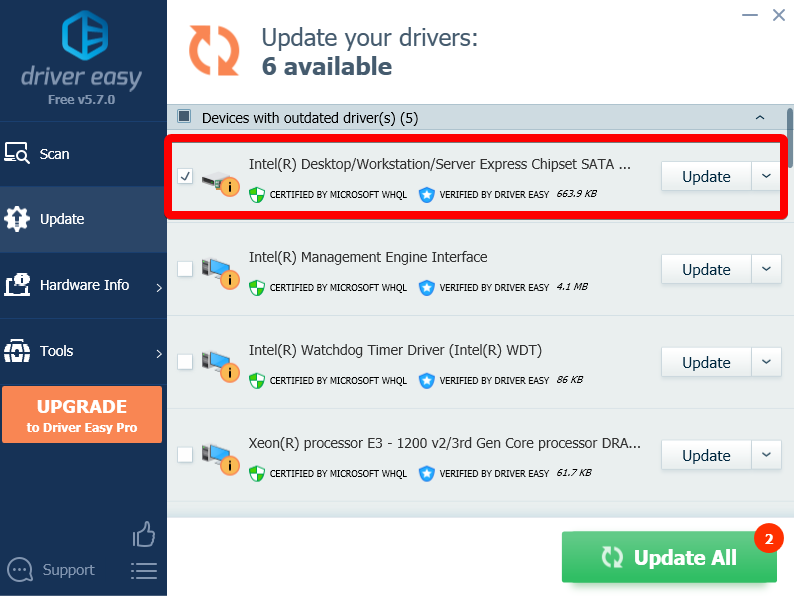 Unmark all the drivers in the list and then start updating each driver by selecting it. Click on the Update button in front of them.
Step 6: It will prompt you to create a Restore Point for your system and give you two options – Automatic and Manual.
Select your option and you can also set it for future updates by clicking on the checkbox on Don't remind me again.
Automatically Create option is also available for the Driver Easy Pro version.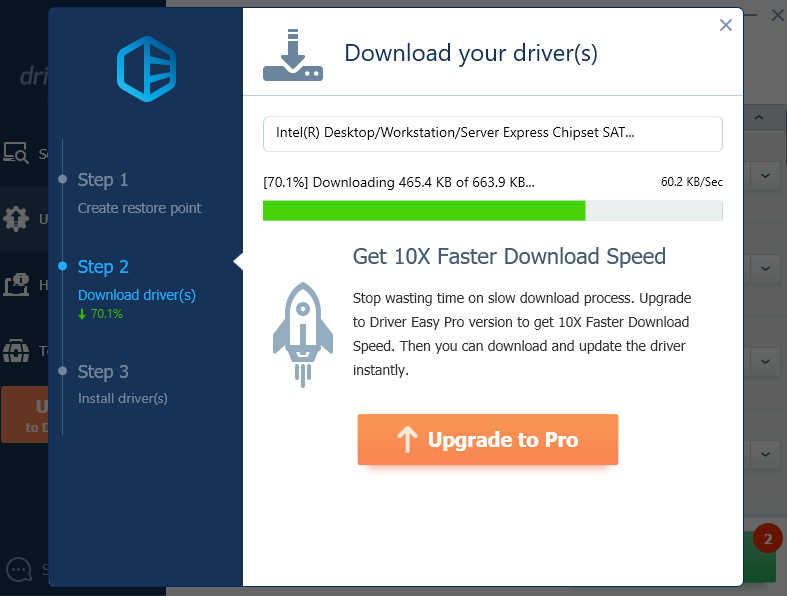 After this step, you can see that the updates for the selected device driver are being downloaded. Once it is installed, it is recommended to restart the computer to apply the changes.
Interface is quite simple as all the functions can be easily located on this driver updater for Windows. User Interface is easily navigable however it lacks the charm of an interesting design. From that front, we can deduct some marks for the overall Driver Easy review. Otherwise, you can always find the Scan, Update, Hardware Info, Tools, and Settings button on the side panel.
1. Driver Backup & Restore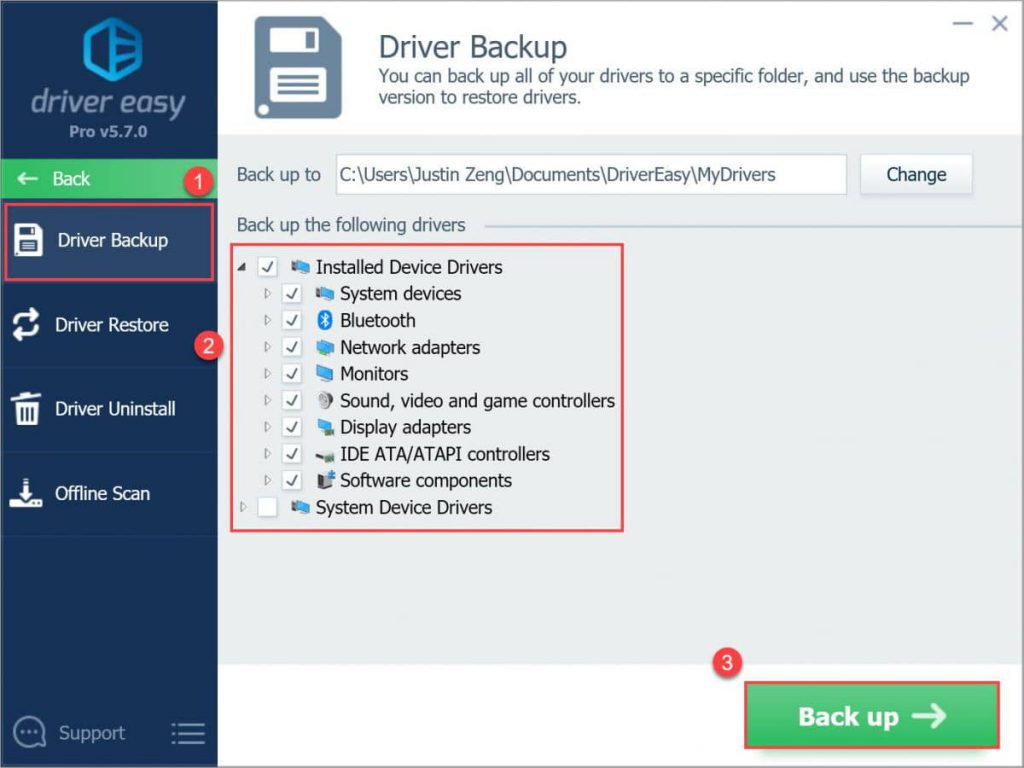 Go to Tools and you can find the Driver Backup and Driver Restore for this function. You can easily restore the drivers once you can save a backup for them. So make sure you take up a Driver Backup for the same.
2. Offline Scan –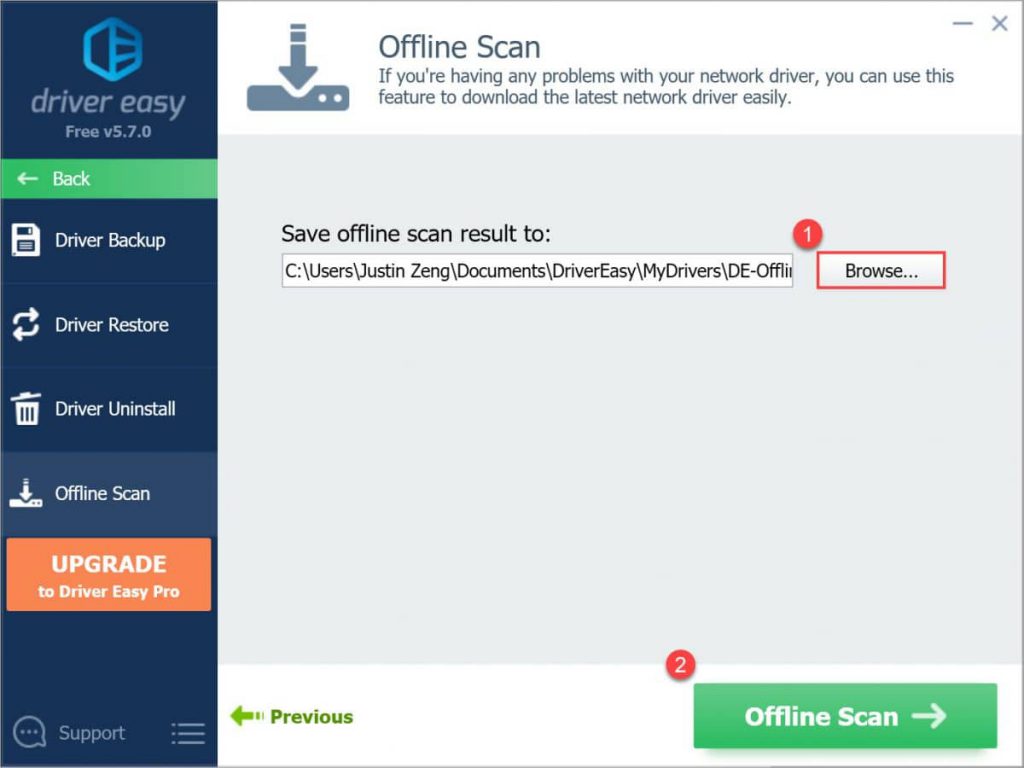 This is a unique feature for Driver Easy users. This will help the ones who suffer from constant network issues. You can run an offline scan on Driver Easy and get the results.
3. Hardware Info –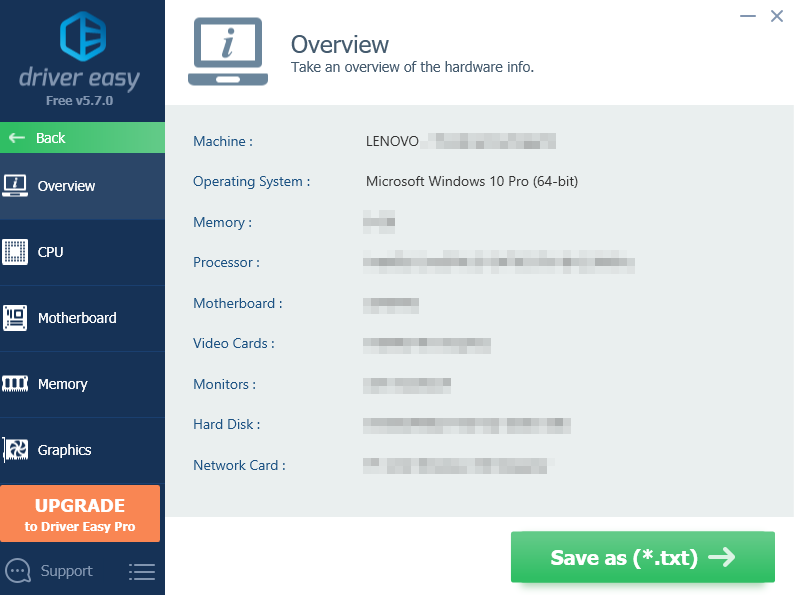 Additionally, Download Driver Easy for PC to get the correct information on  the hardware. As it is a must-know specification required many times when downloading new programs or contacting support. You can click on the Hardware info and get the summary of your PC hardware.
4. Driver Update History –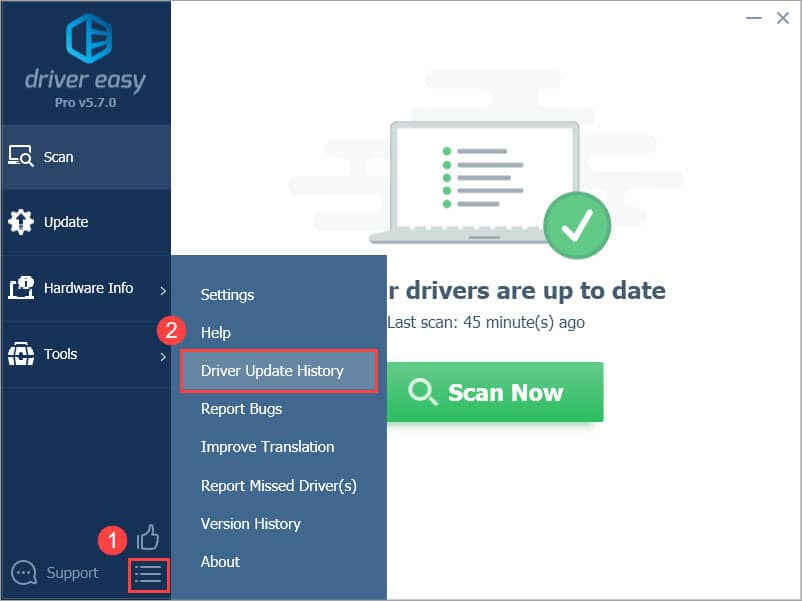 This is an important feature as it will give you the notes on the Driver Update history. It will help you understand the frequency of which device driver gets more updates.
5. Driver Uninstall –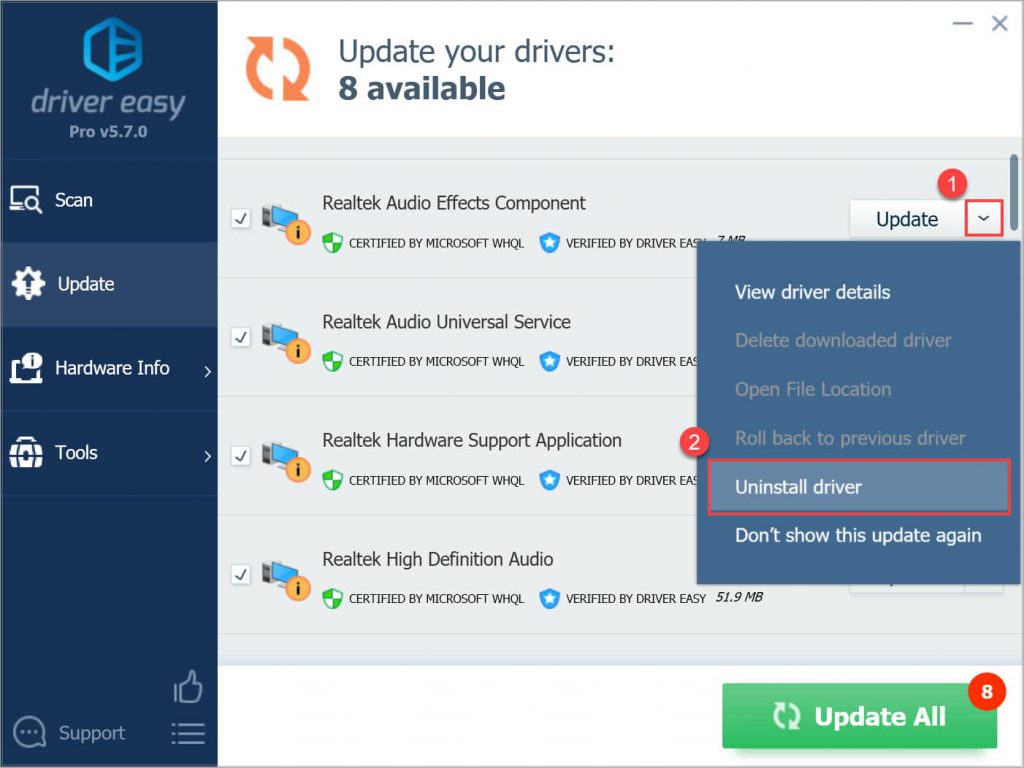 The driver updaters often work on the one-track functionality. This feature is an additional help to Windows users as you can directly uninstall the device drivers for unused or redundant products.
Note- However, we do not recommend it unless you are a computer expert. A simple mistake of driver uninstallation can lead to system failure and more.
6. Schedule Scan –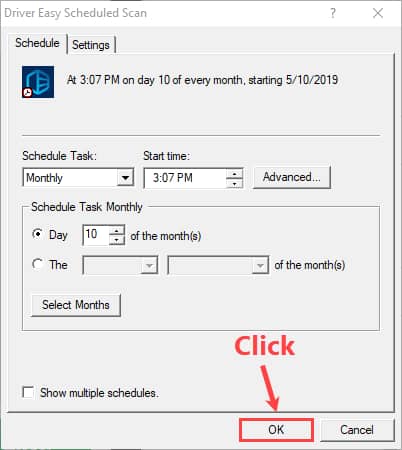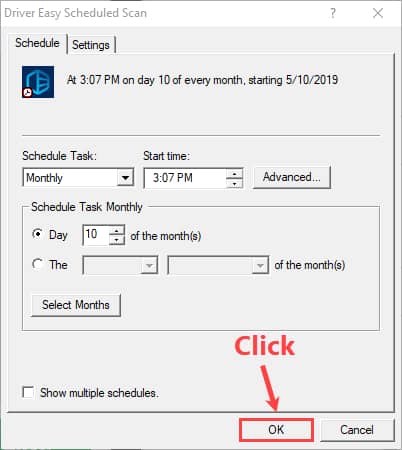 It is easy to schedule a scan for your computer using Driver Easy. Go to the Settings and look for Schedule Scans. You can choose from the options given on the Scheduled Task from monthly, daily, etc., and enter a specific time. Click on OK when done.
Driver Easy is a safe driver updater because updates are frequently rolled out.  While the Updates are released constantly to fix the bugs and issues on the software, the auto-update is only available for the Driver Easy Pro users. The Driver Easy Free users have to go to the official website to download the new versions.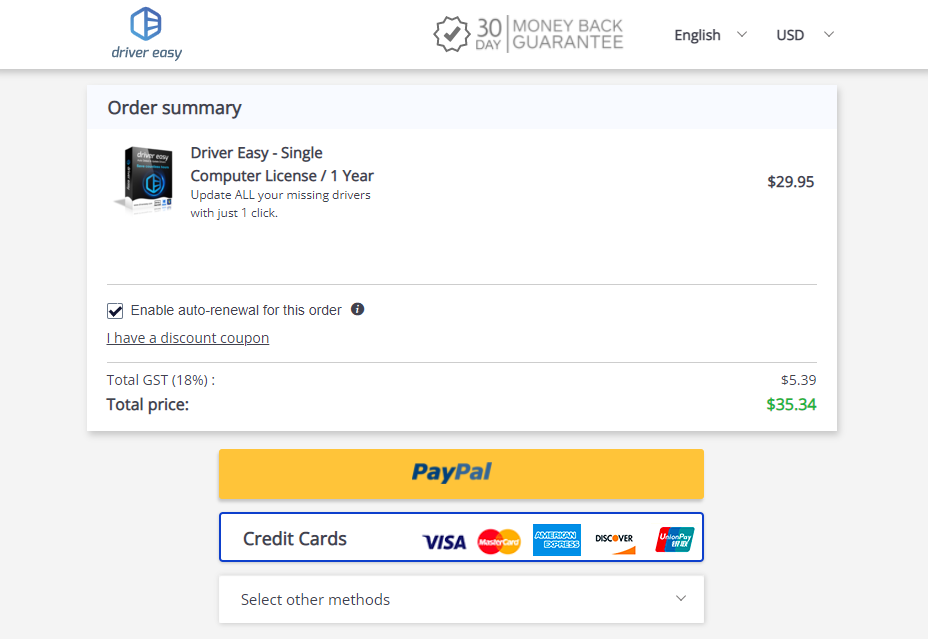 Driver Easy software can be found in two versions -Free & Pro. The Driver Easy Free version can be downloaded from the official Website easily to your computer. The Driver Easy Pro can also be found on the official website under the Driver Update Tool listing. It can be purchased for a single computer at $29.95. However, there are other packages available for buying the license for more than one PC. For 3 PCs, you can get it for $59.90 which is available currently at the same rate as the Single PC license at the ongoing offer.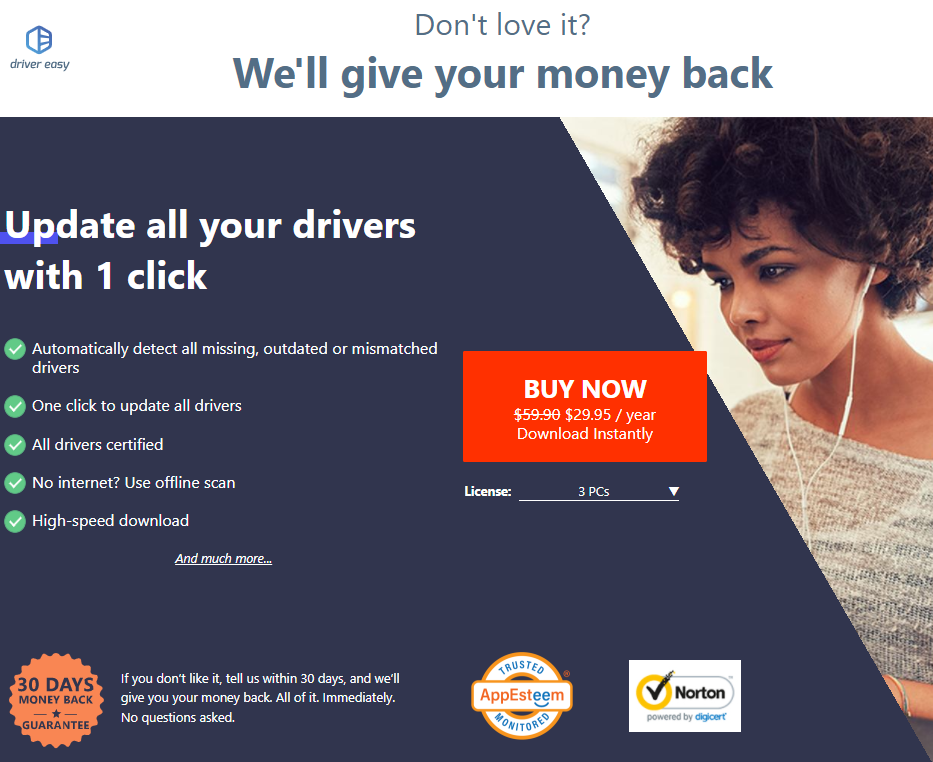 Driver Easy Free
Driver Easy Pro

1 PC, one year free updates, Fully featured

Driver Easy Pro

3 PC, one year free updates, Fully featured
Driver Easy comes with a 30-day money-back guarantee to assure you if you do not like the product, you will be refunded.
According to several users, the Driver Easy is quite slow, but in our experience, no such lags were found. It might be due to other computer issues such as full disk, multiple outdated drivers, or old software.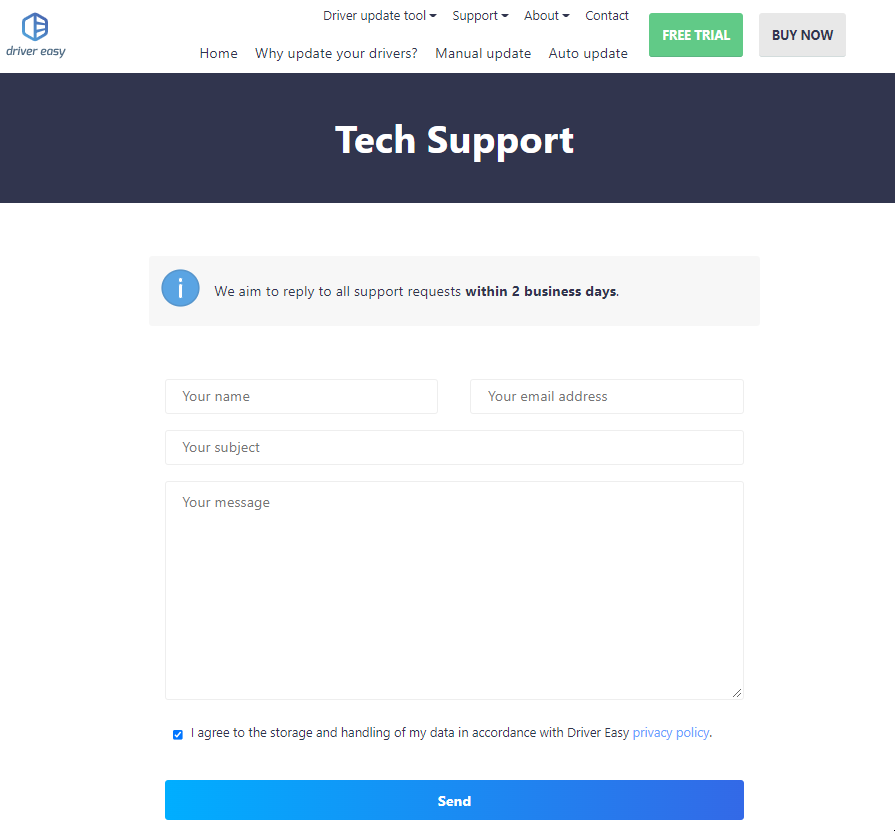 While we talk about Customer Support for Driver Easy, it is quite good. The Official Website shows you the Support page easily and you can navigate on it to find help. There are web pages for Release notes, FAQs, Blogs, Knowledge-based articles, Help for Driver Easy, and Contact. As you click on Contact Support, you will be directed to Tech Support where you can fill in your queries.
Frequently Asked Questions –
Q1. Is Driver Easy free and safe?
Yes, Driver Easy is a safe product and we encourage you to download the products from the official website to avoid any malware. As for if Driver Easy is free or not, yes it has a free version for its Windows users to get the driver updates at no cost.
Q2. What is better than Driver Easy?
In terms of speed and user comfort, Advanced Driver Updater is better than Driver Easy. You can update the device drivers for free in its free version as well.
Q3. Is Driver Easy the best?
When considering the best driver updater for Windows, each user can have a different opinion. Driver Easy is best for some of them as it has been working smoothly for them. For others, who would like to give others a shot, you can try Smart Driver Care & Driver booster for PC with additional features for your computer.
Q4. Is Drivereasy Pro worth it?
Yes, as long as you wish to get automatic and regular updates for your device drivers on your computer, you can trust Driver Easy Pro. The paid version of the Driver Easy is worth giving a try and you can easily find out the advanced features on it when compared to its free version.
Q5. Is there a free version of Driver Easy?
Yes, you can download and install Driver Easy on your computer for free. There are two different versions available on the official website. Get Driver Easy free version from here – https://www.drivereasy.com/driver-easy-free/
Verdict –
Driver Easy solves a big issue of no internet availability with its Offline scan feature. Similarly, the Hardware Info is a must-have feature for all drivers updates. Driver Easy is overall a good product but has major features only available for its Pro users. This can come as a setback for the users as they start to follow the steps and are prompted with Upgrade messages on screen for multiple actions. We hope this Driver Easy 2022 review helps you in making the right decision for choosing the best driver updater for PC.
We look forward to your comments to know more about your opinion on this blog post. For more such reviews on Windows software, keep visiting Top10PCSoftware. Also, follow us on the social media platforms for the latest updates for Windows software. We are on Twitter, Facebook, Pinterest, and Flipboard.