Disk Drill is an ultimate solution to get back your deleted data, including files, documents, images, and videos. Whether the data is lost because of malware attack, partition damage or failed boot drives, Disk Drill is capable of recovering all the unlimited data.
Disk Drill Introduction
Disk Drill is a smart software to recover all the data and files that have been deleted accidentally, virus intrusion, emptying recycle bin or damaged partition. Whatever the reason could be, data is indeed an essential part of our lives now, and everything rotates around the same. And DiskDrill knows this very well.
It possesses some of the powerful features like scanning modes, quick and deep scan, and is versatile enough to recover 200 types of files. Also, it supports different storage devices like traditional hard drives, USB flash drive, memory cards, SDHC cards, etc. The recovery process is faster than others, and the interface is simple and straightforward.
Disk Drill is compatible with Windows 10/8.1/8/7/Vista and XP (both 32 bit and 64 bit) versions as well as available for Mac users.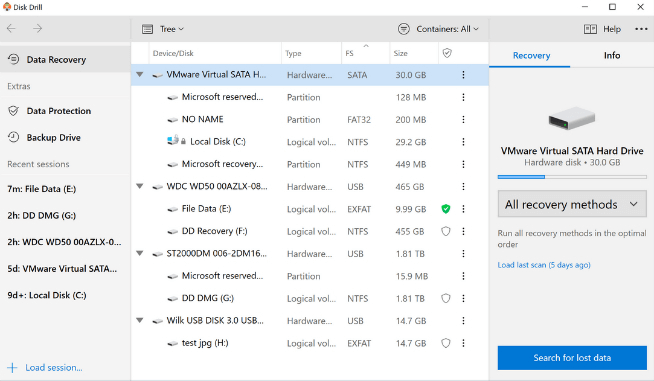 As you land on the interface, you will be able to see all the available drives, be it internal or external. Select the drive where you want the data to be recovered, go to the Info on the right panel and start searching for the lost data. The amount of time taken is directly proportional to the drive size. Preview the results and choose to recover all or specific items as and how required. Apart from recovering data, there are multiple additional features while you want to get back lost videos, images, audios, documents, files and necessary data. One can trust the software for its efficient working and exciting pricing features, beginning from free to Pro to Enterprise solutions.
Disk Drill: A Brief Overview
Starts from
$
89
per year
Advanced Partition Recovery
Detailed Sector-Wide Scanning
Filters For Accurate Results
Recovers data from any storage device
Scan to Recover Any Type of File
Scans External Drives & Cards
Data Recovery & Protection
Guaranteed Recovery Features
Rescue For All Data Loss Situations
Pros:
Easy navigation
Quick and Deep scanning modes
Unlimited data recovery
Saves scanning and resume where it was left
Fastest recovery speed
Preview before recovery
Supports a wide range of file systems
Cons:
High rates
Only allows you to recover 500MB of data with the free edition of Disk Drill
Top 5 Alternative Of Disk Drill Data Recovery Software
Provider
$ Per Year
Top Features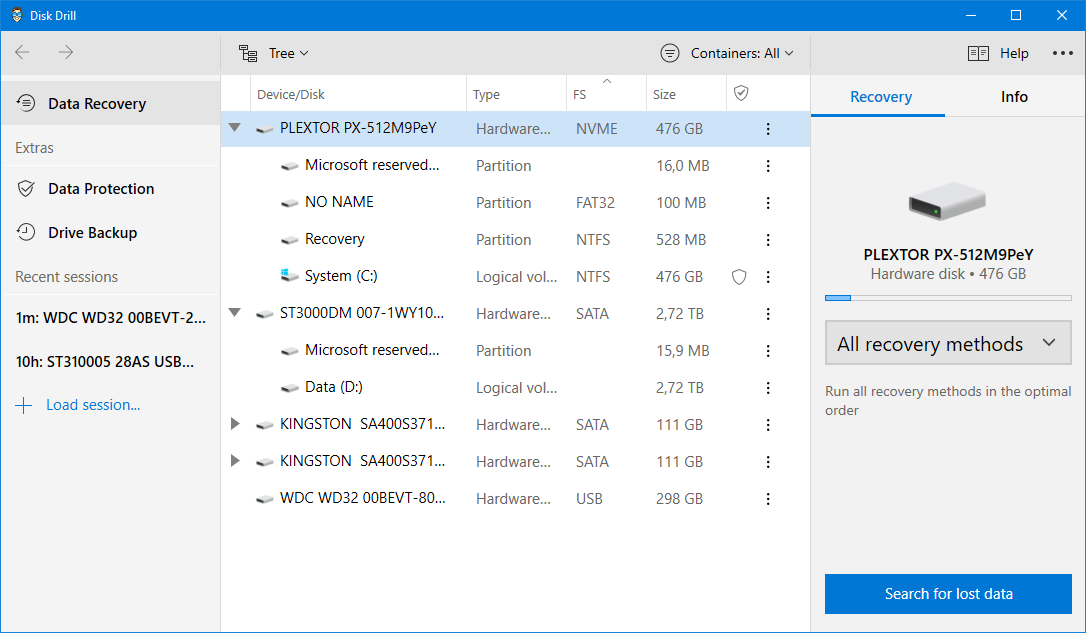 This is an essential part where users land on the clean and self-navigable interface. All the available drives are depicted, which gives you a hint from where to start. Now you need to select the drive you wish to scan or select all. The right-hand side of the interface will give you recovery methods like partition scan, deep scan, quick scan, etc. You can simply search for the lost data afterward. After searching for it, click on Recover to get all the lost data back.
Options like Data protection, drive back up, and recent sessions come along the interface. These additional options are good for extra support like protecting your data from getting corrupted or backing up the whole drive.
Everything is self-explanatory at the interface, and one doesn't need the help of an expert to locate himself at a particular section.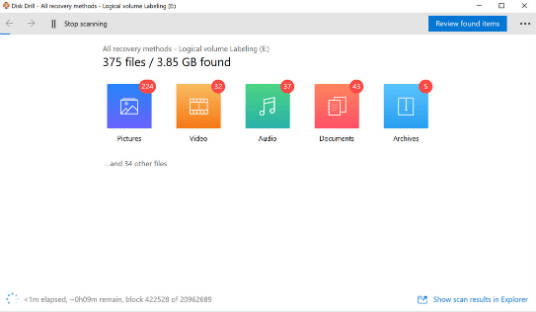 Some features that you would like to know include:
If you wish to recover files about 500MB, you can do that using Disk Drill's free version only. Only if you want to recover more than 500MB, you need to switch to the Pro version.
Recover a massive range of file formats
Apart from recovering images, documents, videos and other files, there are up to 200 formats that can be retrieved using Disk Drill including NTFS, FAT, HFS/HFS+, EXT2/EXT3/EXT4, etc.
Multiple scanning options
Once you pick the drive to be scanned, you can choose options like quick scan, deep scan, universal partition search, undeletion of protected data, etc.
If the recovery is taking some time, and you have to rush, you can pause it for the time being and restart it again later. You can pause the session and can continue it right where you left off.
Data recovery from any media
Data can be recovered not only through internal drives but also from external hard drives, USB drive, memory cards, cameras and iPods. This is indeed the one-stop solution for data recovery.
Preview files before recovering
Before you finally click on the recovery, you can easily preview the files so that unnecessary data doesn't tag along during the recovery process.
Other features like backup image creation, data protection and bad sectors management are worthy to note for.
Every tool must remain updated with new features so that whenever you need to work on a system's performance, it is always there for you. Moreover, updates tend to remove any kind of bugs and glitches that the system can get impacted with. Hence, Disk Drill can thankfully and automatically update itself, and you are free to enjoy the utility without another glitch.
You do not need to install the updates manually as updates are installed by itself. And so you are good to go!
DiskDrill Basic

Free recovery up to 500MB, all recovery methods, Recovery Vault data protection, undelete protected data, backup failing disks, unlimited recovery preview

DiskDrill Pro

1 user upto 3 computers, quick & deep scan, partition searches, All file systems, reconstructs 300+ file formats

DiskDrill Enterprise

All Pro features, unlimited installations and number of users, priority support, commercial license
Let's look at the Basic version of Disk Drill's pricing. All recovery methods and data protection is applicable. Moreover, one can preview unlimited recovery lists but can recover data up to 500MB only. Plus, you get to backup failing disks and undelete the protected data with a free package.
When it comes to the Pro version of Disk Drill, it costs you $89, to begin with. In this, one user can apply the software for up to 3 computers. Quick or deep scan, partition searches and other options are available. With that said, you can recover most of the file systems, including FAT32, NTFS, exFAT, EXT3.4, and much more. Other files like documents, images, videos, archives, etc. are pretty much easy to get again.
Its Enterprise version has once again unlimited commercial recovery features. You can say that it is the copy of the Pro version with some added advantages for commercial purposes. Features like Priority support and commercial license come tag along with it. Yes, it does cost you $399!
Speed is a factor that everyone would consider before even thinking about the next step. An excellent speed recovery tool can bring back the lost data within no time. Disk Drill has a good speed of scanning the drives with the possible recovery methods and finally recovering the data you were seeking. Even if the scanning shows the result you were looking for, you can pause the process and get the file recovered at the same time. Yes, you do not need to wait for the whole process to end. Because of its quick response and timely recovery, we believe in its efficiency.
Speed is an important factor to look for as the person gets impatient when his data is lost. Disk Drill makes sure that this time goes easy and you can certainly receive the deleted data as soon as possible.
If you have any questions regarding the working process of Disk Drill or you are not able to get your files quickly, feel free to contact help@cleverfiles.com.
Any other necessary information like technical support, sales department, discount, site problem, feature suggestions or any other offer can be made through the website.
Land on the customer support website, choose your product, the kind of support you have been looking for and further details. Submit your request, and you are good to go! You will be contacted as soon as possible, and the problem will be solved.
The Final Verdict
Disk Drill is a powerful tool to recover all your files, documents and necessary data. Apart from this, its reliability, customer support, full features and quality updates make it useful for the data recovery process. One can rely on this product to get their data recovered. Not to forget, its free version is capable of receiving back the lost data up to 500MB. Moreover, additional features like unlimited previewing of deleted files give a sense of trust and belief that your data could anyway be recovered using Disk Drill.