Disk Analyzer software is a valuable tool that helps users analyze and visualize the distribution of disk space on their storage devices. Speaking of disk analyzers, WinDirStat is one of the most popular and widely used software. However, some users are not satisfied with the limited features and are looking for WinDirStat alternatives. Today, we have brought a list of the best alternatives to WinDirStat for you to choose from.
Top Software Reviews
Rating
1.

Disk Analyzer Pro

2.

Disk Savvy

3.

Disktective

4.

TreeSize Free

5.

RidNacs

6.

JDiskReport

7.

SpaceSniffer

8.

Folder Size

9.

Wise Disk Cleaner

10.

SpaceMonger
What Features Should You Look For In A WinDirStat Alternative?
Disk Analyzer software serves as an invaluable tool for efficient disk space management, empowering users to identify large files, folders, and unnecessary data. By offering detailed insights into the distribution of disk space, this tool facilitates optimization and decluttering. Here are some features you would want to look at in the alternatives to WinDirStat:
Visual Representation: Disk analyzers often provide visual charts and graphs to represent the distribution of disk space, making it easier to understand and identify space-consuming elements.
File and Folder Size Details: Users can view detailed information about the size of individual files and folders, helping them pinpoint large or redundant data.
Sorting and Filtering: The ability to sort and filter data based on criteria such as file size, type, and date enables users to focus on specific aspects of their storage.
Customizable Scan Options: Users can choose specific drives or folders to scan, allowing for targeted analysis of particular areas.
Cleanup Recommendations: Some disk analyzers provide recommendations for cleaning up space by identifying unnecessary or redundant files.
Interactive Interface: A user-friendly interface that allows for easy navigation and interaction with the scan results.
Integration with Cleaning Tools: Integration with disk cleaning tools allows users to take immediate action based on the analysis results.
Choosing the right disk analyzer depends on your operating system, preferences, and specific features you find most useful.
Best Alternatives to WinDirStat for Windows
1. Disk Analyzer Pro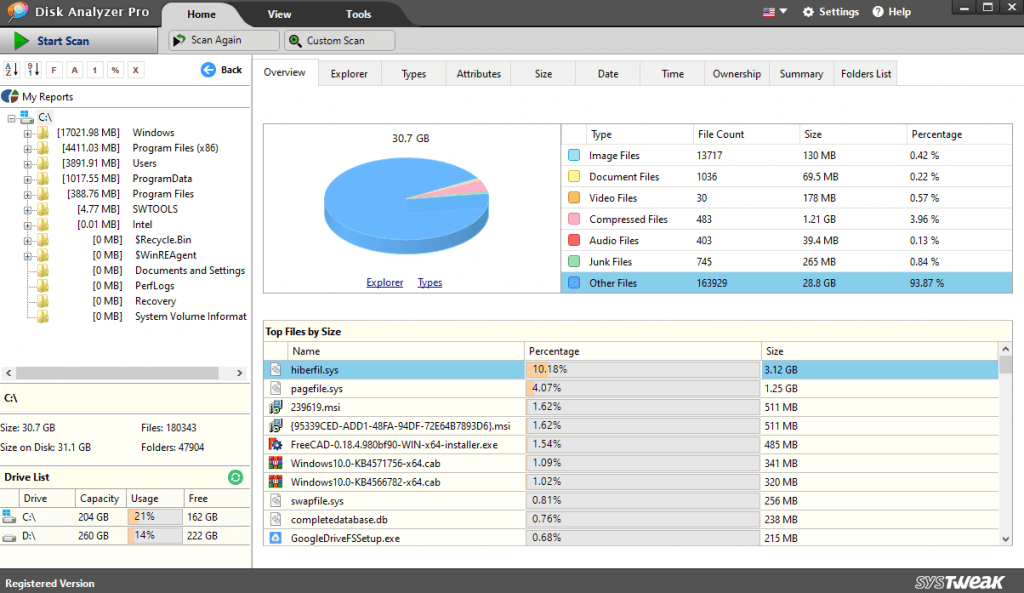 Disk Analyzer Pro divides the contents into other categories such as Document, Image, Video, Audio, Junk, and Compressed files. Any category that you double-click on will open in a new window with all of the files included in that category. You have the option to go through every file you have and remove any unnecessary ones to free up disk space.
Features:
Reports on disk consumption are available.
Finds huge and old files as well as detects duplicates.
Locates redundant and junk files.
Remove transient and garbage files.
Find big, outdated, redundant files.
Files are sorted into several categories.
For users to receive all features, a license must be purchased.
Price: $0
2. Disk Savvy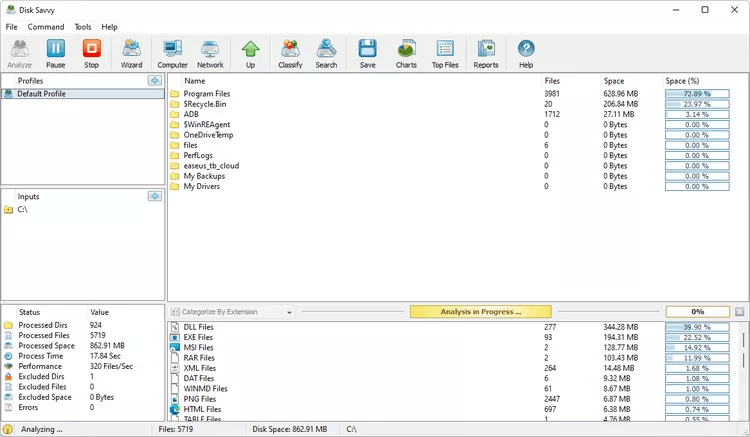 To find out which file kinds consume the most storage, you may examine local and external hard drives, browse through the results, remove files from inside the software, and organize files by extension. Additionally, you have the option to see and export a list of the top 100 largest files or folders for later examination on your computer.
Features:
Results are exported to a report file.
Operates within File Explorer.
Easier to use than the majority of analyzers for disk space.
Files are categorized in several ways.
Run simultaneous scans at several places.
Frequent upgrades to more recent versions.
Includes 500,000 files per scan.
Price: Free
Download Now: https://www.disksavvy.com/downloads.html
3. Disktective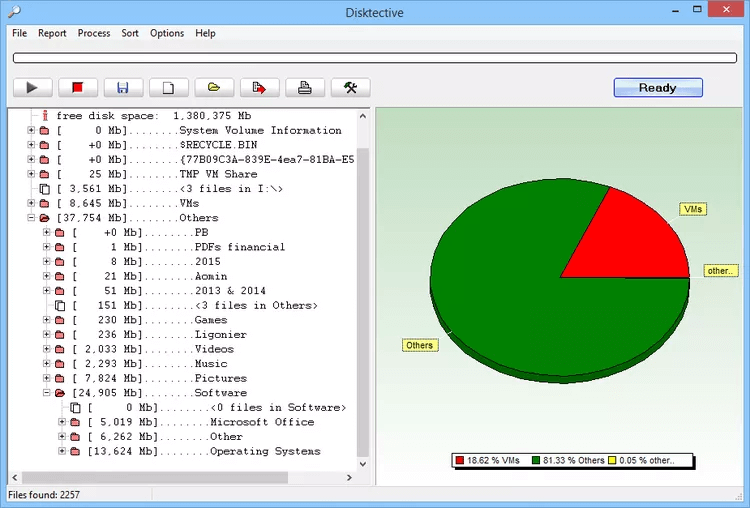 Is your disk space running low? Unaware of what has consumed it? Run Disktective to see how much space is being utilized on your computer. Determine the actual size of your folders and the distribution of occupied space within them by using Disktective. Hundreds of subdirectories, each holding several files, may exist within a single directory. Just launch Disktective, and it will generate a comprehensive report showing the actual sizes of all folders and the subdirectories they include.
Features:
Export results to a file.
It shows the disk use of each folder as a pie chart.
Allows for external drives.
Disktective is comparatively easy to use.
Portable software.
Different view options.
Deleting a file directly from the software is not possible.
Price: Free
Download Now: https://www.softpedia.com/get/System/Hard-Disk-Utils/Disktective.shtml
4. TreeSize Free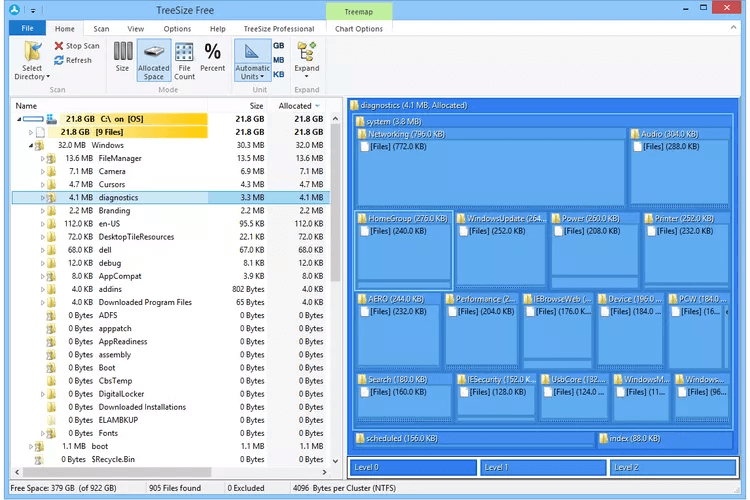 TreeSize is a disk management tool by Jam Software that assists in monitoring the amount of storage on your computer. The application may be installed in either German or English and works with any version of Windows, even Windows 11. TreeSize makes sure you never have to worry about running out of space again by scanning your whole drive and reporting the sizes of all the folders and subfolders.
Features:
Examine individual files and whole disks.
Both external and internal hard disk devices are supported.
Available in a portable version.
Swiftly scan disks and folders.
Accurately reports disk space.
Easily combined with Windows File Explorer.
Price: Free
Download Now: https://customers.jam-software.de/downloadTrial.php?article_no=80
5. RidNacs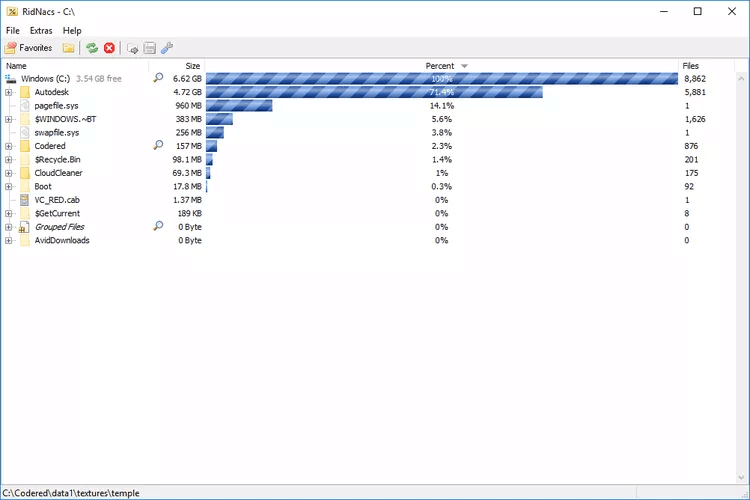 RidNacs performs exactly what it says it does and is quite simple to use. Though it depends on the size of your hard disk and the data you have saved on it, analyses are rather quick. The results may be exported to several forms (CSV, TXT, XML, and HTML) and are quite pleasant to read. Moreover, the context menu of Windows Explorer can be used to open RidNacs.
Features:
Clear and simple design.
Scan a single folder or a whole hard drive.
Displays a list with colored bars that indicate the percentage of disk space available and consumed.
Sleek and uncomplicated UI.
Available in a portable version.
Scans the entire disk or a specified folder for huge files.
Lacking sophisticated features seen in comparable apps.
Price: Free
Download Now: https://www.splashsoft.de/ridnacs-download/
6. JDiskReport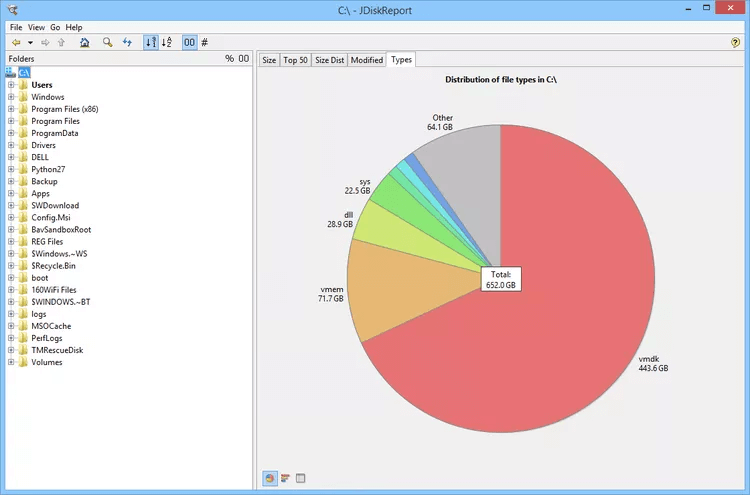 Jgoodies is the creator of JDiskReport, a free Windows program that falls under the genre of Software utilities and especially under the area of Disk (more precisely, Disk Analysis). Compared to other software tools, JDiskReport is a pretty light program that won't take up as much free space.
Features:
Shows file storage as a pie chart or in list format.
Displays methods to evaluate the information.
Provides comprehensive insights into disk space utilization from five distinct perspectives.
Displays disk space utilization from five different angles.
New users will find the interface excellent.
Operates on Linux, macOS, and Windows.
Does not allow deleting files from inside the results.
Price: Free
Download Now: https://www.jgoodies.com/downloads/jdiskreport/
7. SpaceSniffer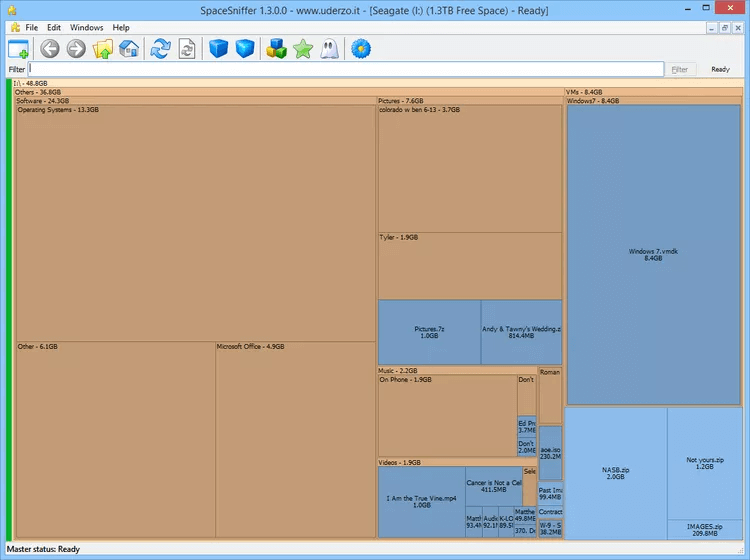 SpaceSniffer is a trustworthy, practical, and cost-free program for scanning data on Windows computers. You can clearly see how files and folders are organized on the computer's hard drive by using this program. This tool employs a Treemap visualization scheme to examine disk space, giving you an idea of the location of large files and folders on the device based on color.
Features:
Effective algorithm for changing and detecting files.
Give distinct hues to distinct file kinds.
Prompt, real-time file scan monitoring.
Include filters.
Requires no installation.
Monitors in real-time.
The interface needs to be optimized.
Price: Free
Download Now: https://www.majorgeeks.com/files/details/spacesniffer.html
8. Folder Size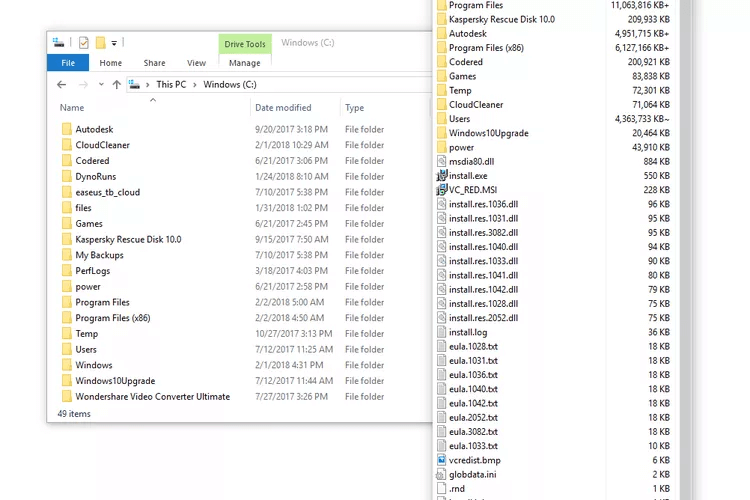 A robust FREE tool called Folder Size can scan your hard drives and show you every file and folder tree size. The program will show the sizes of the files and folders as well as their proportion of the disk's overall size. The biggest files and folders may be found by sorting the organized report.
Features:
Utilize Drag and Drop to scan a folder.
Show the sizes of the files and folders in various charts, such as pie charts and bar charts.
Examine the whole storage device or a specific folder.
Combine File Explorer with it.
Folders are sorted by size.
User Friendly and Intuitive interface.
Not updated from a long time
Price: Free
Download Now: https://foldersize.sourceforge.net/
9. Wise Disk Cleaner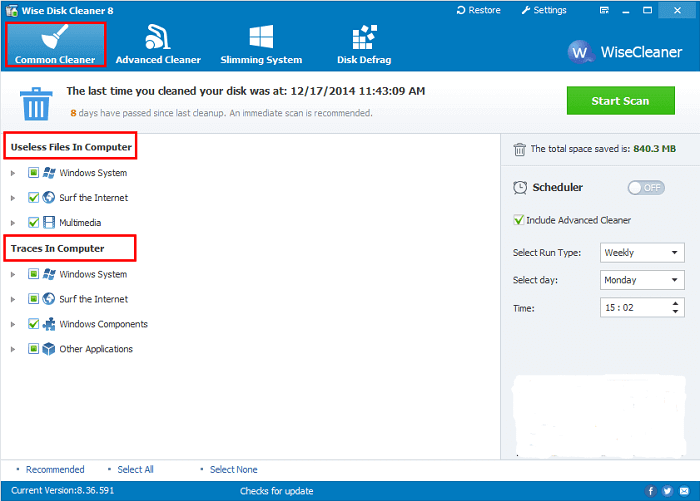 Wise Disk Cleaner is a user-friendly, configurable interface. Additionally, a rudimentary defragmenting tool is integrated within the software. Wise Disk Cleaner makes it simple and quick to get rid of many types of trash files, which frees up space on your hard disk. A wizard will appear when you open Wise Disk Cleaner and walk you through the entire procedure step-by-step.
Features:
Finds and removes a variety of temporary file types.
Choices for appending various file extensions.
Options to schedule tasks.
Free To Use.
Includes Defragmentation tool.
The process involves automation.
Scans take a longer time to complete.
Price: Free
Download Now: https://www.wisecleaner.com/wise-disk-cleaner.html
10. SpaceMonger
A disk inspection utility application called SpaceMonger gives users a comprehensive view of the storage space on their PC. The application makes it simple to locate files and folders using up the most space on your hard drive by offering various viewing choices. The Windows version of SpaceMonger includes pie charts, treemaps, statistics, and a cloud storage connection option. There is a free trial period available for the program, and no registration is needed.
Features:
Does not affect system performance.
Works With Cloud Storage such as Dropbox and Google Drive.
Highlight content to be deleted with many options.
Reports are presented as pie charts.
Deletes unnecessary files and directories.
Free trial version.
The interface can be difficult for new users.
Price: Free
Download Now: https://spacemonger.en.softonic.com/
Choose Your Favorite WinDirStat alternative
In conclusion, these WinDirStat alternatives offer powerful disk space analysis tools for Windows users. Whether you prefer visual representations, detailed file insights, or seamless integration with cleaning utilities, there's an option for everyone. Choose the best alternative that aligns with your preferences and optimize your storage space efficiently.
Frequently Asked Questions
Q1. What is better than WinDirStat?
Disk Analyzer Pro is a better choice than WinDirStat if you are looking for Disk Analyzer Software. This app receives regular updates and has more features than WinDirStat.
Q2. Why is WizTree faster?
WizTree reads the Master File Table (MFT) of hard drives that are formatted in NTFS (the majority of current hard drives use this format) straight from the disk while scanning these devices. The NTFS file system uses the MFT, a unique hidden file, to keep track of all the files and directories on a hard disk.
Q3. Is TreeSize safe?
TreeSize is a reliable program that arranges folders according to size to assist you in managing the space on your Windows PC. Because it helps you remove redundant items from your hard drive and lets you see which folders are consuming the most space, it has grown to be a very popular tool.
Q4. How long does WinDirStat take to run?
Updates for WinDirStat have not been made in a very long time. It takes longer than other applications because of this. To swiftly scan and examine your hard drive and its contents, use Disk Analyzer Pro.