In terms of photo editing, image resizing is one of the most crucial tasks. Whether you need to email a picture to a friend, print a photo at a certain size, or share it on social media, be it anything. An image resizer helps you get the job done without downsizing the quality.  In this post, we have listed the 10 best image resizer software for Windows PC in 2023 that you can use.
Let's get started and explore how you can resize the bulk of images in just a few clicks with the help of these incredible image resizers for Windows.
What Is An Image Resizer?
An Image Resizer is a specialized and advanced software that quickly resizes an image without compromising its quality. You can use any image editor tool to resize the bulk of images within no time. All you need to do is simply upload the images on the tool, change the size and download a newly resized batch of images in a snap. Yes, as simple as it sounds. We have listed the 10 best image resizing tools in our post, along with their key features, pros & cons. You can explore our list and pick the best product that suits your need and requirement.
Why Do We Need Image Resizer Tools?
Talking of photo editing, there are two functions that we frequently use, cropping and resizing. Cropping simply eliminates a selected portion of an image, whereas resizing works fascinatingly. When you resize an image, the pixel formation is changed. So, whether you enlarge a picture or reduce its size, a photo resizer tool adds new pixel info to generate a high-resolution image without downsizing its quality.
Well, here's something you should know. When you resize an image without a specialized tool, the image quality is degraded. Resizing alters the image dimension and reduces the pixel count, thereby hampers the picture's overall appeal. And this is where an image resizer tool steps in! An image resizer software easily changes the dimensions of a picture, and it also lets you organize a huge collection of images by resizing multiple images at once.
Top 10 Image Resizer Software for Windows
#1 Image Resizer
Price: $33.75
Latest version: Image Resizer 1.0.0.40413
Compatibility: Windows 11/10/8.1/8/7/Vista and XP (both 32 bit and 64 bit)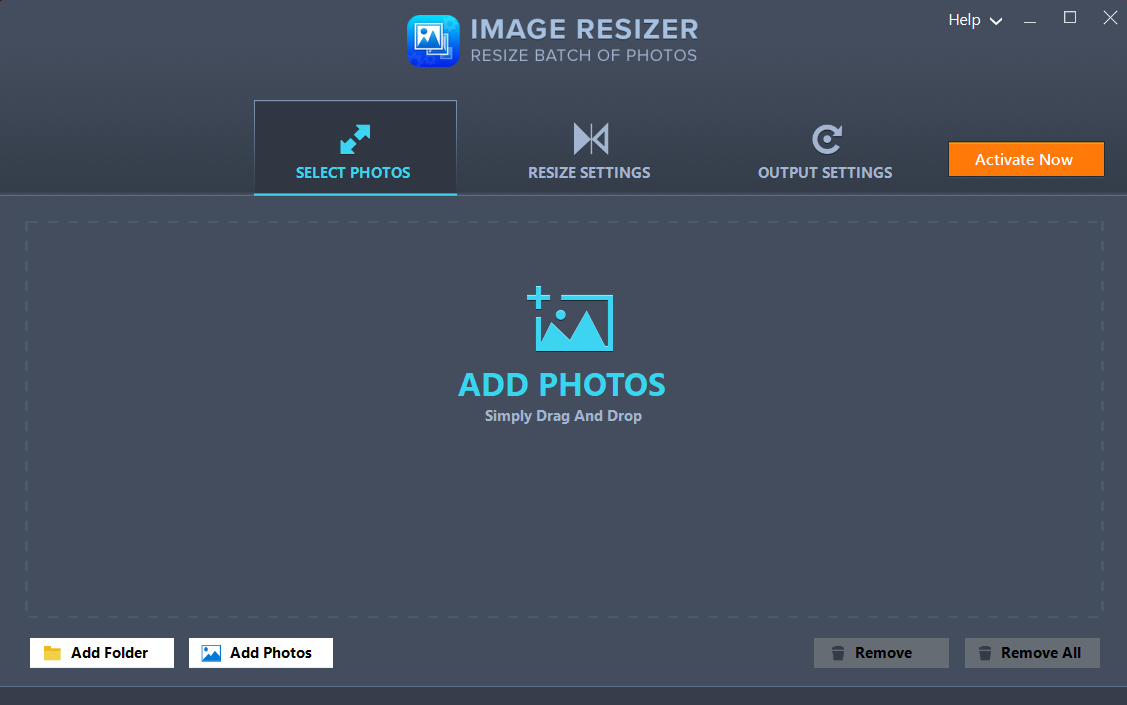 Image resizer by Tweaking Technologies is an ultimate tool to resize, flip, rotate, rename and change the format for multiple images at once. You can easily resize a batch of images using the Image Resizer tool on Windows. It allows you to save multiple images in different file formats, including JPG, JPEG, PNG, BMP, GIF, TIFF, TIF, and more. So, yes, you can also use this nifty tool to change your digital images' file format.
The Image Resizer tool helps you resize images and neatly organizes the saved photos into different folders and sub-folders. If you are using this tool as a beginner, the Image Resizer also offers you many pre-defined settings to quickly scale up or scale down your images to save time and effort.
This nifty bulk image resizer tool also re-adjusts the wrong image orientation for a hassle-free image editing experience. So, suppose you are looking for a nifty, easy-to-use image resizer tool for Windows that can instantly resize a batch of images without affecting the quality; you can go for Image Resizer.
Pros:
Resizes a batch of images in a snap without compromising its quality.
Easy to use and install, even for beginners.
Supports multiple file formats, including JPG, JPEG, PNG, BMP, TIFF, and more.
Adjusts wrong image orientation automatically.
Rotate images
Flip images
Cons:
The free version lets you resize only 15 images.
You can't change the background of images
#2 Batch Photo Home
Price: $29.95
Latest Version: Batch Photo 4.4
Compatibility: Windows 11/10/8.1/8/7 and XP.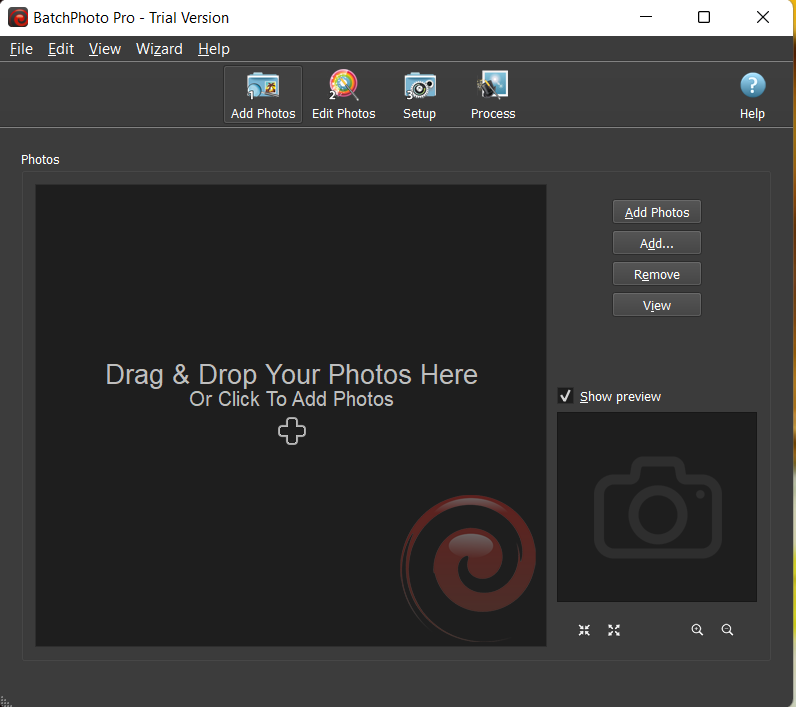 Batch Photo is an advanced image resizing tool that easily processes multiple images. Batch Photo tool by Bits&Coffee features more than 50 edit actions that can process multiple images in an automated or semi-automated manner. You can use this photo resizing software to resize, crop, touch up, rotate, and edit a batch of images. With its exceptional support for multi-core CPUs, the Batch Photo tool can effortlessly resize thousands of images in one session. It also supports RAW image formats from DSLR cameras.
The Batch Photo image resizer software supports multiple languages, including English, German, French, Spanish, Italian, and Japanese. The Batch Photo tool is available in three different versions that include Home ($30), Pro ($50), and Enterprise ($130), which you can pick as per your usage.
Pros:
Powerful editing features.
Supports more than 170+ file formats, including JPEG, GIF, PDF, TIFF, and more.
Saves your current settings in the form of profiles to make editing easier.
Preserves EXIF and IPTC metadata.
Automatically imprints the timestamp on a batch of photos.
Easily adjusts the DPI and document size in inches.
Advanced touch-up options are available to tweak images.
Supports graphical filters like Sepia, Charcoal, Oil Paint, Solarize, Emboss, etc
Cons:
The interface still has room for improvement.
A few errors were encountered during batch processing.
Experienced a lag while using Grunge frames
#3 PicPick
Price: $0.00
Latest Version: PicPick Version 6.1.2
Compatibility: Windows 11/10/8.1/8/7/Vista and XP (both 32 bit and 64 bit)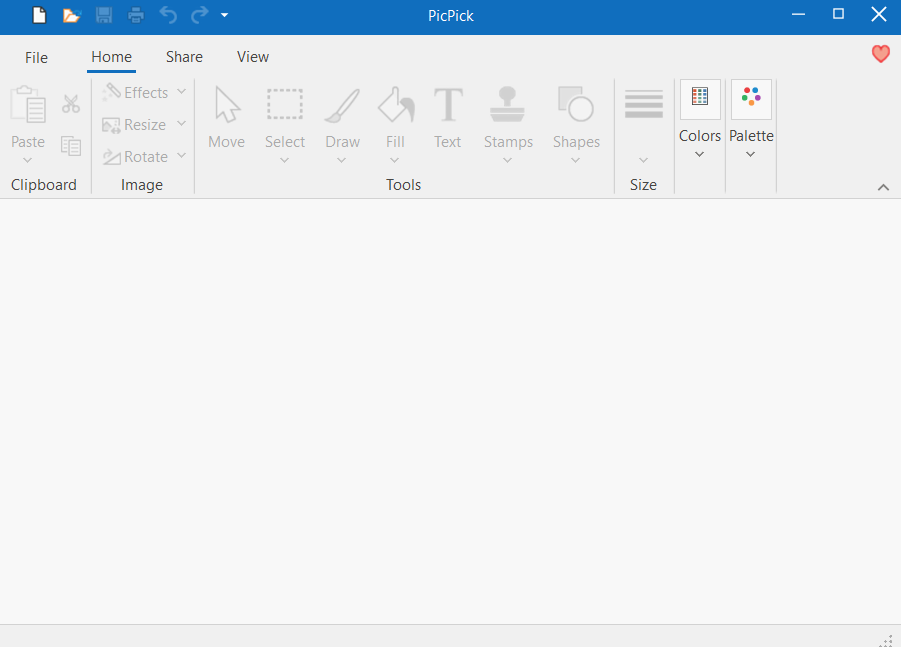 PicPick is a free image resizer for Windows that helps you finish the job within no time. It is an all-in-one designed tool ideal for both beginners and professionals. PicPick offers you all the graphical accessories in one place, including Protractor, Pixel ruler, Magnifier, Color Palette, Color Picker, Whiteboard, and so on.
With the help of the PicPick image resizer software, you can easily resize and crop multiple images in one go. You can even highlight your images with effects, add shadings, frames, watermarks, and more.
Pros:
Allows you to take screenshots in many ways like full screen, active window, scrolling window, fixed region, and so on.
Annotate and highlight your images using arrows, texts, shapes, and more.
Easily share your images across multiple platforms like Google Drive, DropBox, OneDrive, EverNote, Facebook, and so on.
Easy to use and flexible image editing tool.
Includes a floating widget "Capture Bar" to easily capture screenshots
Features advanced settings like customizing hotkeys, file renaming, etc
Cons:
Lack of image editing filters.
Supports all versions of Windows but is not compatible with Mac and Linux
#4 Fotosizer
Price: $15.95
Latest Version: Fotosizer 3.14.0.578
Compatibility: Windows 11/10/8.1/8/7/Vista and XP.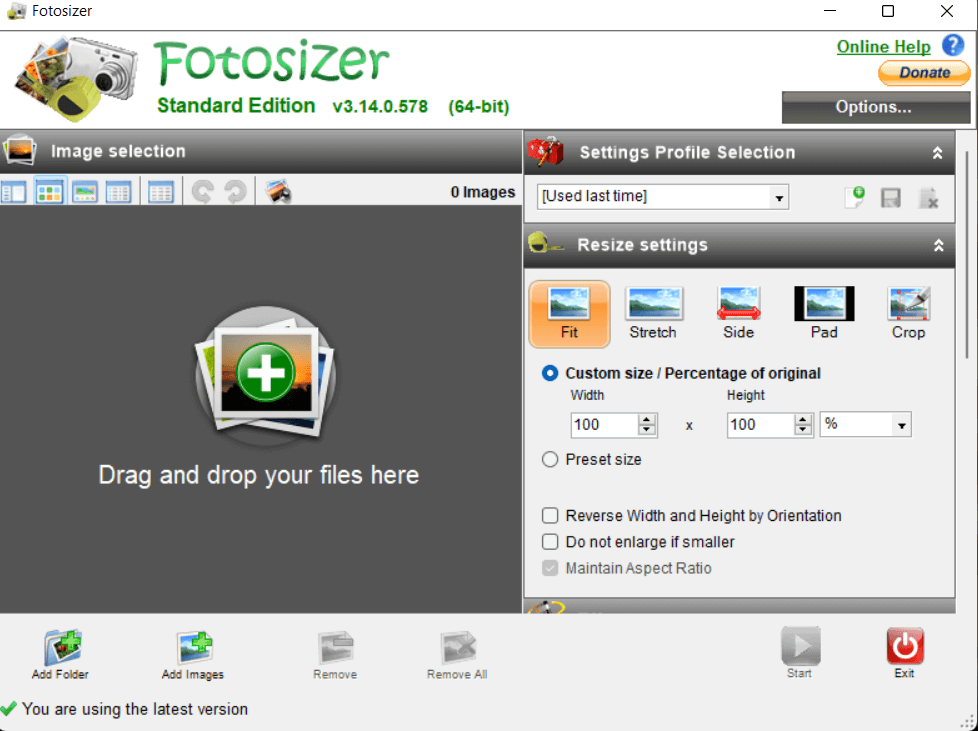 Fotosizer is a user-friendly batch image processor tool for Windows. It effortlessly handles all major file formats. You can quickly resize, rotate, and watermark hundreds of images in one go with the help of this nifty photo resizing program. As a beginner, while using this photo size reducer tool, you can either use the preset sizing options for resizing images or manually input the desired parameters.
The Fotosizer tool is perfect for handling multiple images and gaining authority by adding copyright, logo, or watermarking your pictures. You can download and install the free version of Fotoziser on your Windows PC as it supports all the significant features. However, a paid version of the app is also available with an advanced feature-set that you can activate anytime.
Pros:
Supports more than 35+ languages, including English, French, German, Italian, Spanish, Dutch, and more.
Real-time preview available.
Supports multiple file formats, including BMP, JPEG, PNG, GIF, and TIFF.
Add special effects to images like Sepia, Black, White, Lomo, Pixelate, Vigennete, etc.
Offers fully customizable watermarks
Cons:
The interface is a bit cluttered and confusing to use
#5 Adobe Photoshop
Price: $20.99/mo
Latest version: Adobe Photoshop CC 2022 23.3.2
Compatibility: Windows 11, 10, and 7. (32-bit and 64-bit)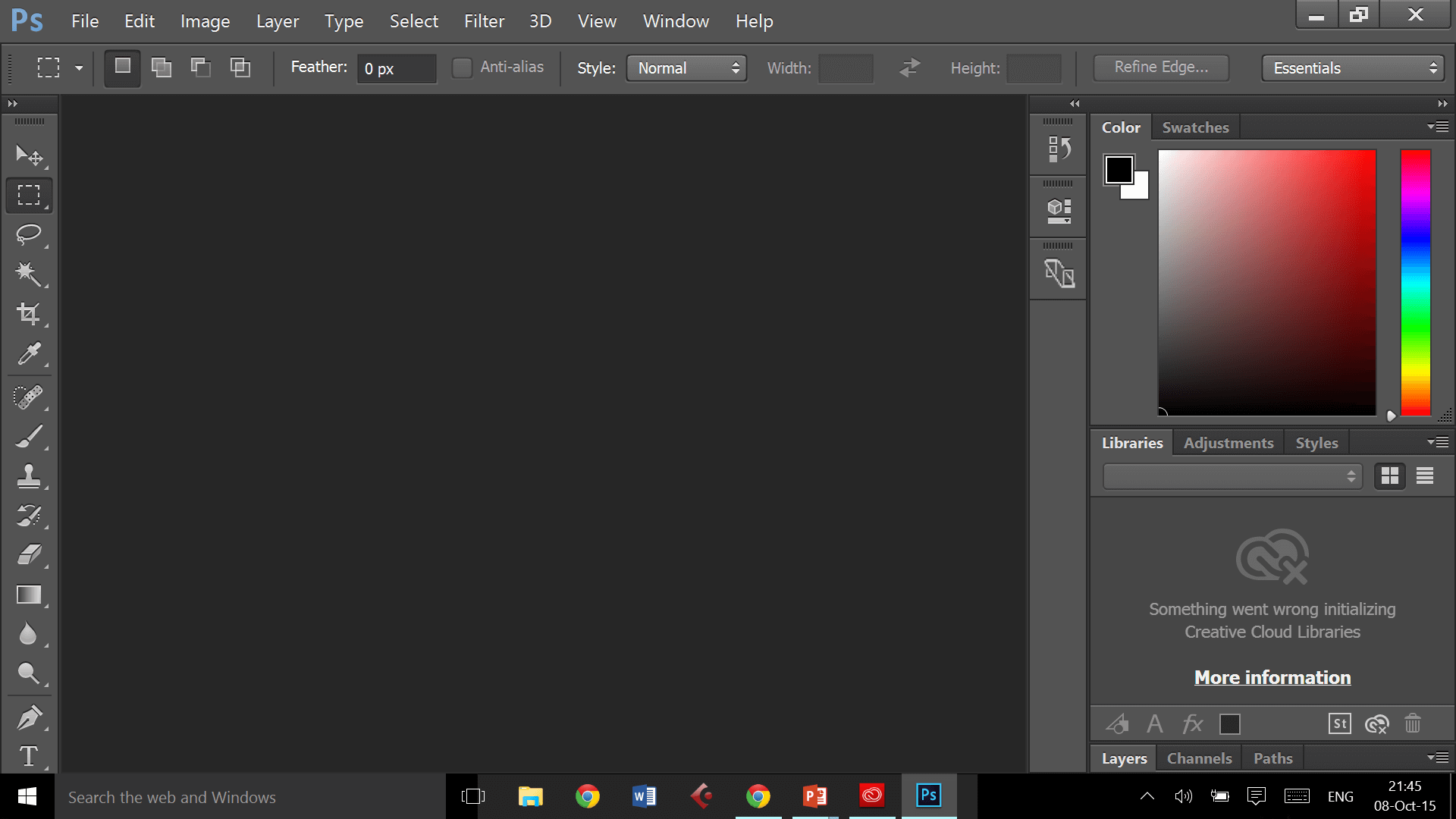 Adobe Photoshop is a renowned, legendary, premium image editing tool featuring immense capabilities. Photoshop offers you a vast array of creative tools to transform your images. You can use the Adobe Photoshop software for resizing a batch of images without compromising on its quality. Adobe Photoshop offers a creative virtual space where you can play with multiple layers, filters, color levels, and alpha channels to add life to your images.
Pros:
Use multiple image layers to create complex modifications.
Supports Plug-Ins, Filters, Textures, Overlays, and Actions.
Design and illustrate 3D images.
Watermark customization with both text and graphics
Cons:
A bit pricey for the individual user.
Not ideal for batch editing.
Requires a lot of practice to master the tool
#6 InPixio Photo Maximiser
Price: $49.99/ year
Latest Version: InPixio Photo Maximiser 5
Compatibility: Windows 11/10/8.1/8/7/Vista and XP.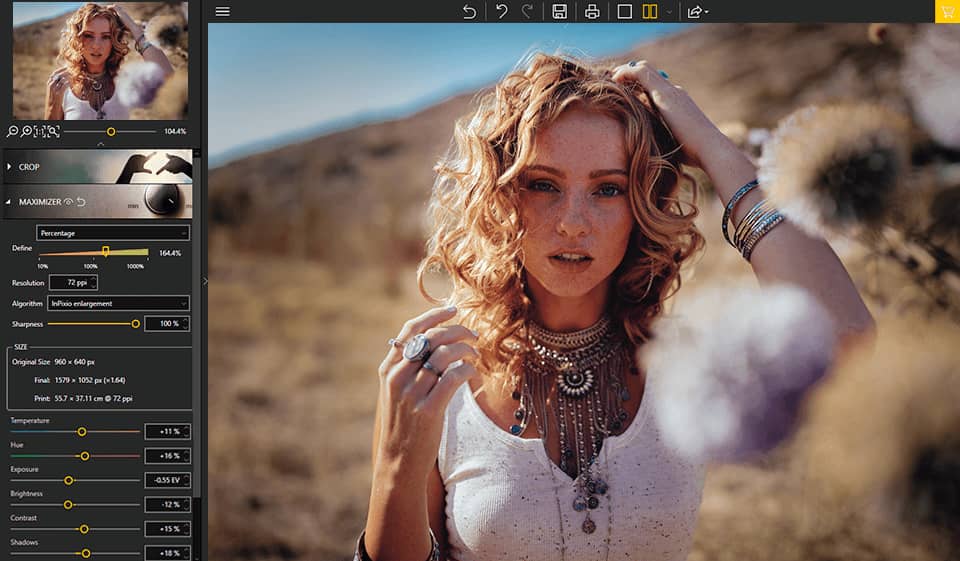 InPixio Photo Maximiser is a handy photo size editor for Windows that produces picture-perfect, high-resolution images. It keeps the quality of the image intact and ensures that the picture is non-blurry. The InPixio Photo Maximiser software to resize images can enlarge your images without deteriorating the picture's pixel count, color, and brightness. It also makes batch processing simpler as you can find all the right tools in single-click access on the app.
Pros:
Effortlessly handles all major file formats.
Easy to use and powerful image resizer software.
Advanced cropping functionalities.
Easily batch processes up to 1000 images simultaneously
Cons:
The background removal feature is not as effective and lacks a clean finish. The foreground of the image needs to be more tidied up.
Does not offer a one-time purchase subscription
#7 Corel Draw Graphics Suite
Price: $269
Latest Version: Corel DRAW Graphics Suite 2022
Compatibility: Windows 11 or Windows 10 (Version 21H1 or later), 64-bit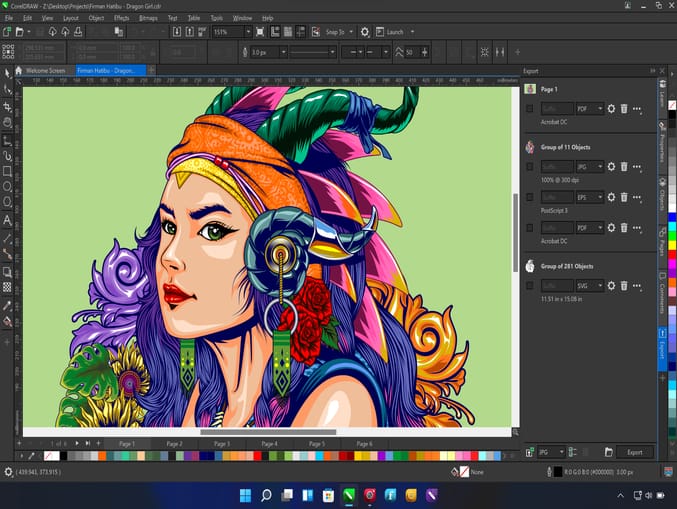 Corel Draw is a popular photo resizing program that offers you a creative designing space with all the right toolset at your fingertips. You can take your creativity to a whole new level with the help of this intuitive tool that delivers compelling results. It is a fully-featured software with exclusive features and content. Corel Draw Graphics Suite offers you a 7-day free trial period on Windows. It offers you the best drawing tools, typography tools, layout tools, image editing tools, cloud-based collaboration, and many advanced features in one package.
Pros:
Exceptional image editing features.
Creates high-resolution images.
Ideal for graphic designers and professional photographers.
Supports a wide range of file formats.
Offers a 7-day free trial on Windows
Cons:
Consumes a lot of system power and resources.
Bit expensive.
Not supported on older versions of Windows
#8  BIMP
Price: $0.0
Latest Version: BIMP v2.6
Compatibility: Windows 11/10/8.1/8/7. (32-bit and 64-bit)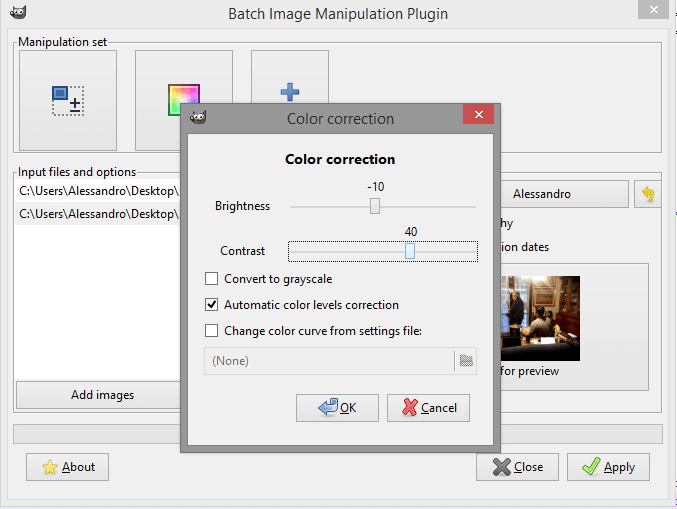 Want to resize the image without losing quality? BIMP is the perfect solution that can help you apply a set of manipulations to an entire group of images. BIMP (Batch Image Manipulation Plugin), a free image resizer, is a feature-rich batch photo editor that allows you to resize, convert and rename images easily. It comes with an easy-to-use interface that helps you start the process immediately. You only need to upload your images and initiate your project. This tool can also add customized watermarks to your images to gain authority. It is a powerful tool that takes less time to process multiple images.
Pros:
Lightweight and easy to use.
Supports multiple file formats.
Quickly processes hundreds of files simultaneously
Cons:
Limited number of editing options.
User interface has room for improvement
#9 RIOT
Price: $0.0
Latest Version: RIOT v1.0.1
Compatibility: Windows 11/10/8.1/8/7/Vista and XP. (32-bit and 64-bit)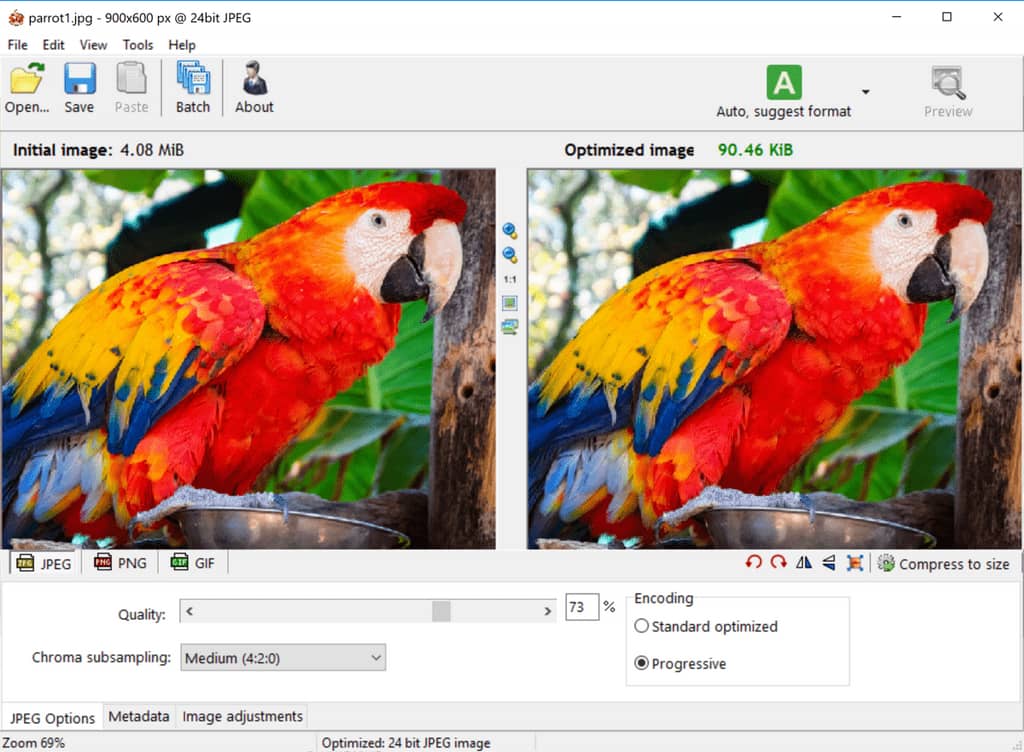 RIOT (Radical Image Optimizer Tool) has an easy-to-use interface that allows you to preview the output image. It effortlessly processes multiple images simultaneously without impacting the system resources.
Pros:
Saves and optimizes JPEG, GIF, and PNG files.
Allows you to control compression, colors, metadata settings, and more.
Supports automatic image optimization that adjusts brightness and contrast.
Can be integrated with other image editing software like GIMP and IrfanView.
Image metadata removal
Cons:
Supports a limited number of file formats.
Lacks image editing filters
#10 Graphics Converter Pro
Price: $49.95
Latest Version: Graphics Converter Pro v6.94
Compatibility: Windows 11/10/8/7/Vista.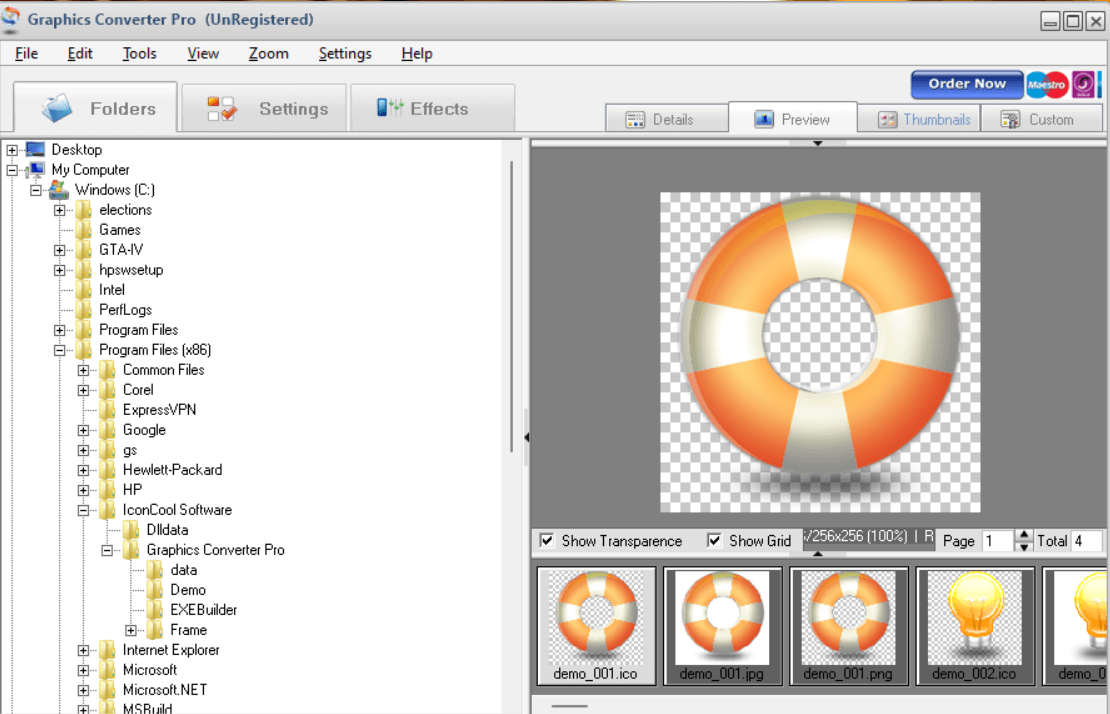 Last yet not least. Here comes our next pick on the listicle of the 10 best image resizer tools for Windows. Graphics Converter Pro is your one-stop destination to resize a batch of images within no time quickly. It supports more than 500 graphic formats and 22 vector formats. It also offers 3 pre-set resizing modules: Standard, Custom, and Proportion Size. So, yes, you can pick this tool as a bulk image resizer on Windows.
Pros:
Offers more than 40+ image filters.
Supports more than 500+ graphic formats.
Features 4 different kinds of preview modes.
Offers you a 30-day free trial period.
24×7 customer support assistance
Cons:
The trial version supports a limited number of features.
Stability issues were experienced while using the app
Frequently Asked Questions:
Q1. Which is the best image resizer?
Our post includes a comprehensive list of the 10 best image resizer tools for Windows that you can pick per your needs and requirements. We recommend Image Resizer, PicPick, and Batch Photo Home to narrow down the selection.
Q2. Does Windows 10 have an image resizer?
Yes, you can quickly resize images on Windows 10 without third-party image resizer software. Launch the Windows Photos app, upload the image you need to resize, tap the three-dot icon and select "Resize."
Q3. Does resizing images reduce quality?
Reducing the image size doesn't affect the quality, although enlarging the image dimensions may make the image grainy or blurry. And here's when an image resizer software steps in! Resizing an image with the help of a specialized tool will create high-definition images without degrading their quality.
Q4. How does the image resizer work?
Resizing only alters the image's size without changing the amount of data in that image. The algorithms of a specialized picture resizing tool ensure that the pixel dimensions remain intact when you resize an image.
Conclusion
Here are the 10 best image resizers for Windows that can help you get the job done on the go! So, rather than the web, you can explore our list of paid and free image resizers that help you get the best results without degrading the image quality. We have tested these apps on the Windows platform to understand features and performance better. Some of our best picks include Image Resizer, PicPick, and Batch Photo Home.
For any other queries or assistance, feel free to reach out!