A Spreadsheet software is a must-have on a Windows PC for every user – a homemaker juggling budgets, professionals handline data-rich  projects, or students organizing assignments. If you thought  there were only a handful options, in this post we'll enlist some of the best spreadsheet software for Windows PCs that you can download.  
Top Software Reviews
Rating
1.

Microsoft Excel

2.

Google Sheets

3.

LibreOffice Calc

4.

Apache OpenOffice Calc

5.

WPS Office Spreadsheets

6.

OnlyOffice Spreadsheet Editor

7.

Polaris Office (Polaris Sheet)

8.

Calligra Sheets

9.

SoftMaker Free Office (PlanMaker)

10.

HancomOffice
Anyone who has to juggle numbers, data, and everything in between knows how important spreadsheets are. With spreadsheet software, you can process big data with utmost ease regardless of their volume, velocity, and variety. Spreadsheet software simplifies the analysis and presentation of large datasets when needed.
Up until now if you were confined to a few options, you'll be amazed at the number of alternatives that you can use. The Spreadsheet tools for Windows PC that we have mentioned below are as easy (if not more) and efficient as any other spreadsheet tool.
Things You Should Look For In A Free or Paid Spreadsheet Software
The spreadsheet software that you have downloaded on your PC should have an interface that is easier for you to understand.
It should offer various formulas and functions. As a beginner, you might also want to see the syntax of those formulas and functions should be mentioned correctly.
Look for features that help you present the data visually.
You should be able to add security to your spreadsheet; be it restricting access at all levels – editing cells, modifying the whole workbook, reading or editing, etc.
The spreadsheet program should offer Pivot Tables to simplify complex data.
It should offer you features to automate tasks such as Macros, VBA, etc.
Ability to integrate your spreadsheet utility with various other applications like Microsoft Excel or the other applications offered as a part of the suite.
Best Spreadsheet Applications for Windows 11/10 PC
1. Microsoft Excel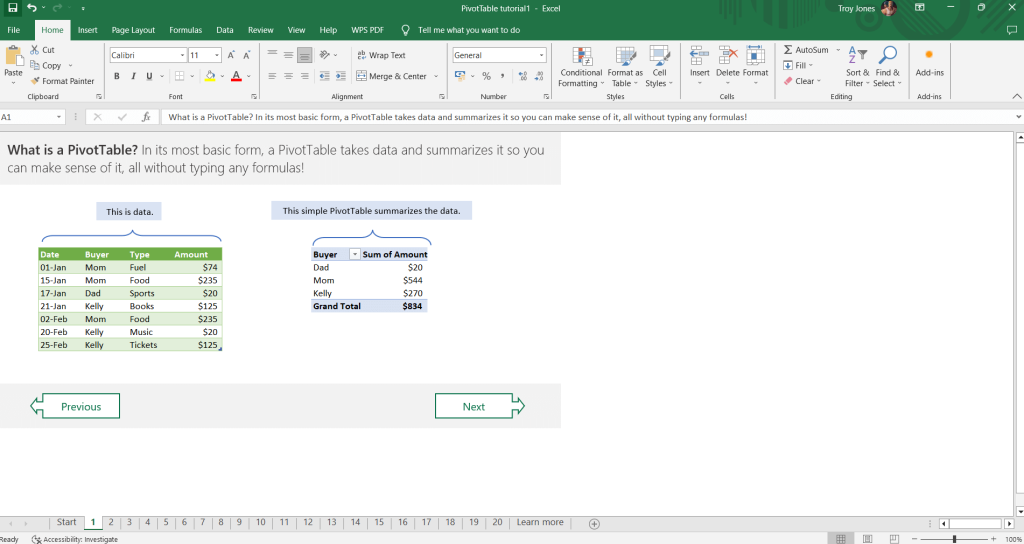 When it comes to organizing, analyzing, and visualizing large datasets and performing advanced tasks on them, Microsoft Excel is often hailed as one of the most popular choices. It is a staple for users from all domains – homemakers, students, business professionals, users alike. It comes loaded with functions, formulas, chart tools, and everything to interpret, create, and present data.
Notable Features
Can handle large amounts of data; over 1 million rows and over 16000 columns.
Formulas for complex calculations.
Macros can help record and automate a series of tasks.
Conditional formatting is where you can format cells based on values.
Various functions for mathematical, statistical, and logical operations.
Easily restrict the type of data entered into cells
Powerful and accurate data analysis tools.
Collaborate with others.
Can be cross-integrated with other Microsoft Office products.
Could be slow when working with large datasets.
Pricing  – You can get it free with Windows PCs and laptops. Pricing starts at $6.99/ month (Microsoft 365) 
2. Google Sheets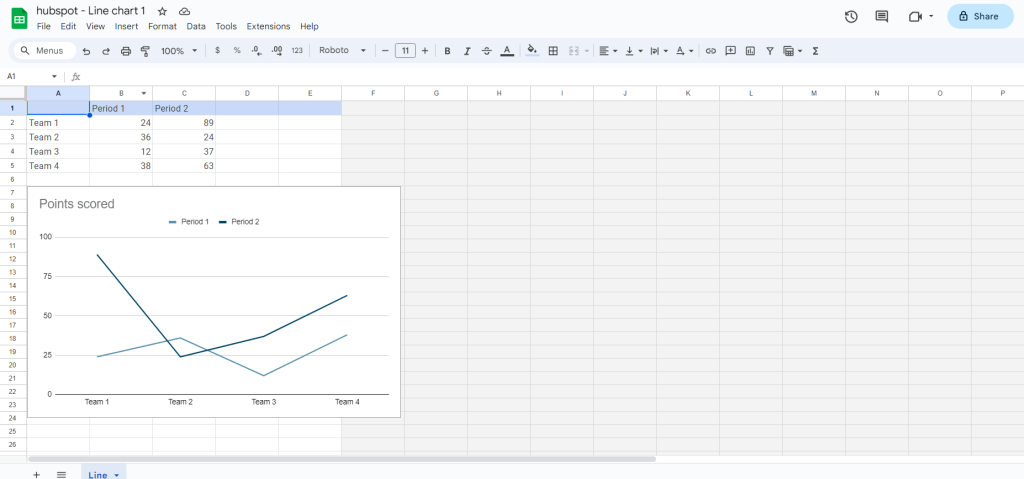 Google Sheets is one of the best spreadsheet programs that can be used anytime & anywhere, thanks to its solid cross-compatibility. Just like Microsoft Excel, it comes with various formulas, functions, and tools with which you can work on complex data sets, perform advanced calculations, and create presentations that involve analyzing complex data. It also has a very familiar interface just like the popular spreadsheet software.
Notable Features
Wide range of functions, formulas, conditional formatting, and data validation tools.
Several templates for various tasks such as managing projects, budgeting, etc.
Support for a variety of third-party ad-ons.
You can keep track of version history and revert to the previous version.
Create Macros for automating tasks.
The cloud-based version is available.
Easily collaborate with others and restrict data modification rights.
Cross-integrate with other Google Workspace apps.
Industry-standard stringent security to protect data.
Pricing – Free
3. LibreOffice Calc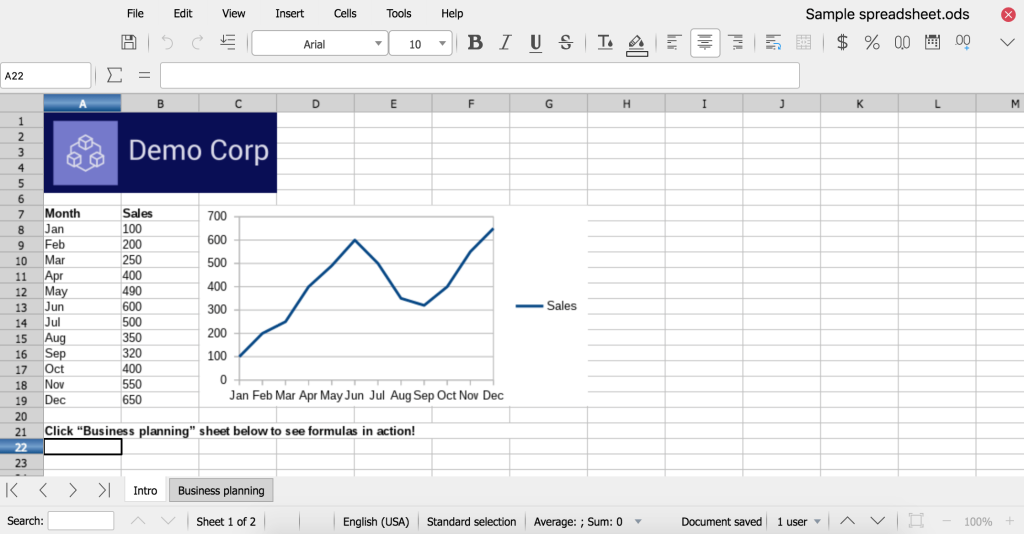 LibreOffice Calcis a free spreadsheet software that has a very intuitive interface. As a haven for number crunchers and professional data miners, it comes packed with several advanced functions. What makes it more intuitive is the fact that it comes with inbuilt wizards that guide you through the various features in a way that you can use the right feature at the right place.
Notable Features
Various powerful data analysis tools.
OpenDocument Format support.
Data validation and conditional formatting.
The built-in wizard guides you through selecting from a wide range of features.
Repository of templates for a variety of tasks.
Free and open source.
Compatible with Microsoft Excel.
DataPilot tech extracts and transforms raw database data into insights.
Cross-platform compatibility.
Pricing – Free and open source 
4. Apache OpenOffice Calc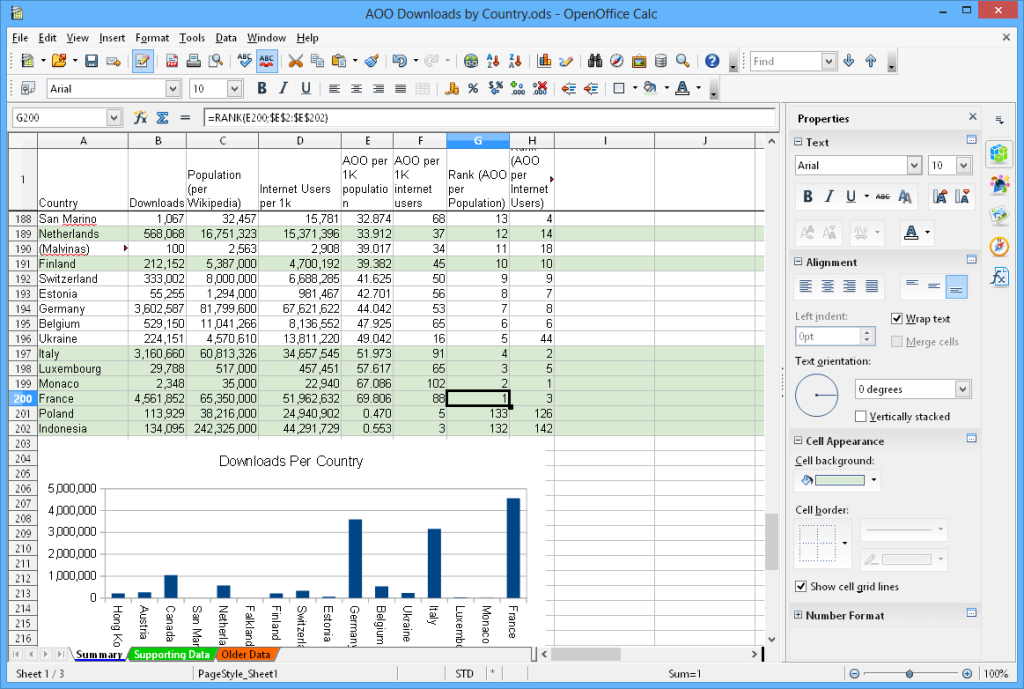 Another spreadsheet software that can help you with sorting and processing data is Apache OpenOffice Calc. It is a free and open-source software that's a part of the Apache OpenOffice suite. It can help you with a wide range of tasks such as data analysis, data entry, calculations and charting. Here are some of its notable aspects.
Notable Features
DataPilot technology makes it easy to pull raw data from databases and process it.
Create formulas using words.
Intelligent Sum Button inserts sum or subtotal based on the context
Easily solve optimization problems using solver components.
Send results as PDFs to users without spreadsheet software, no need for extra installations.
Various style and formatting options for flexible cell formatting.
The scenario manager makes a "What if" analysis function at the touch of a button.
Cross-compatibility with Microsoft Excel.
Multiple-user support helps other users edit and add their data to spreadsheets.
Fewer chart options as compared to other spreadsheet software.
Pricing – Free and open-source 
5. WPS Office Spreadsheets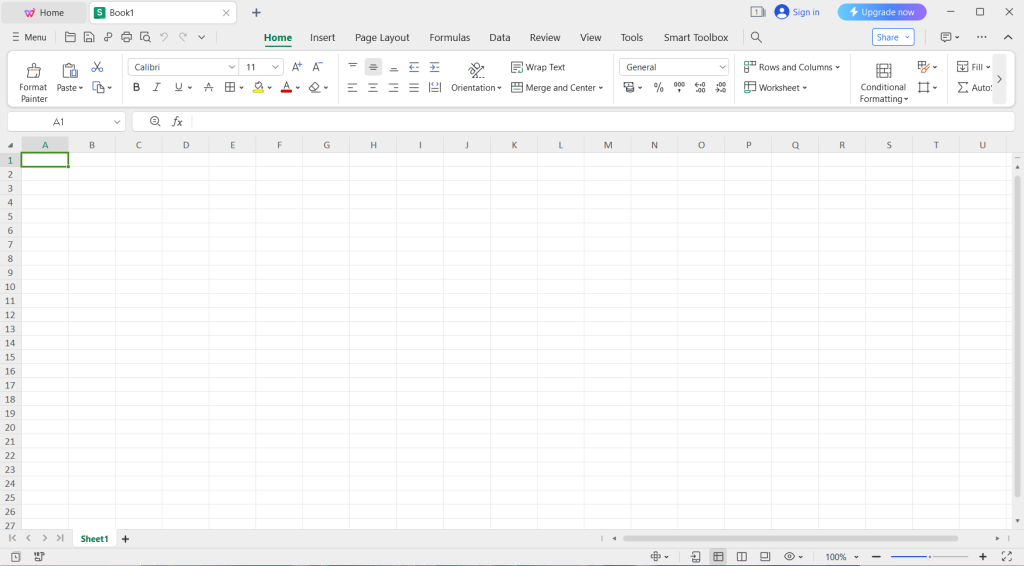 WPS Office Spreadsheets is a free data analysis and visualization software for Windows 11/10. It can be used for both personal as well as business data interpretation. With it, you can easily manage charts, track budgets, and do loads of other things. It is well-compatible with common spreadsheet file formats and can be accessed across devices. Here are some of its notable features.
Notable Features
Macros and VBA support for automating tasks.
Large knowledge base from where you can learn WPS Office Spreadsheet.
Use a pivot chart to create a dynamic chart.
Various features to encrypt spreadsheets and set passwords.
Convert Excel to PDF or vice versa. You don't any third-party tool to do that.
Free templates such as balance sheets, project planning, budget, schedule, etc.
Quickly switch between multiple tabs using the Ctrl + Tab combination.
AI-powered.
Easy to use.
Not as customizable as some of its competitors.
Pricing – Free 
6. OnlyOffice Spreadsheet Editor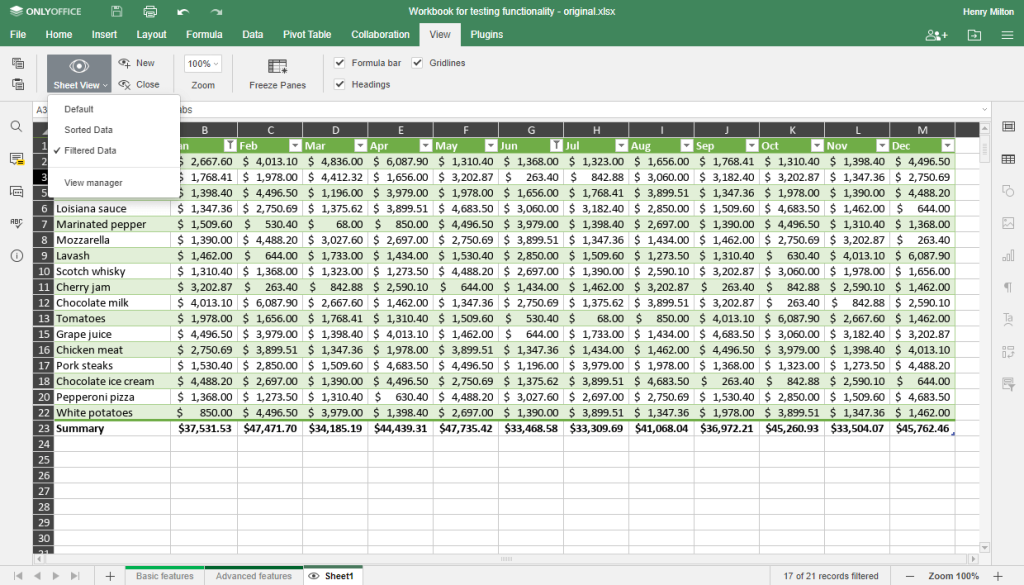 OnlyOffice Spreadsheet Editor is yet another free and open-source spreadsheet software that you can install on your Windows 11/10 PC. It allows you to create and edit spreadsheets, and collaborate with others. It offers you a wide range of features such as pivot tables, functions, charts, data validation, conditional formatting, data validation, and macros.
Notable Features
400 available functions and formulas.
Ability to add slicers to formatted tables and see what data is added.
Add a variety of visual elements – charts, graphics, and sparklines.
Set passwords for the entire workbook, spreadsheet, or individual sheets.
Available across all devices.
Special syntax tips to help you with functions.
Collaborate on spreadsheets in real-time without leaving the editor.
Lock any element you want with a password – you can lock shapes, text, and cells.
Automate tasks with macros.
Offers fewer add-ons as compared to competitors.
Pricing – Free 
7. Polaris Office (Polaris Sheet)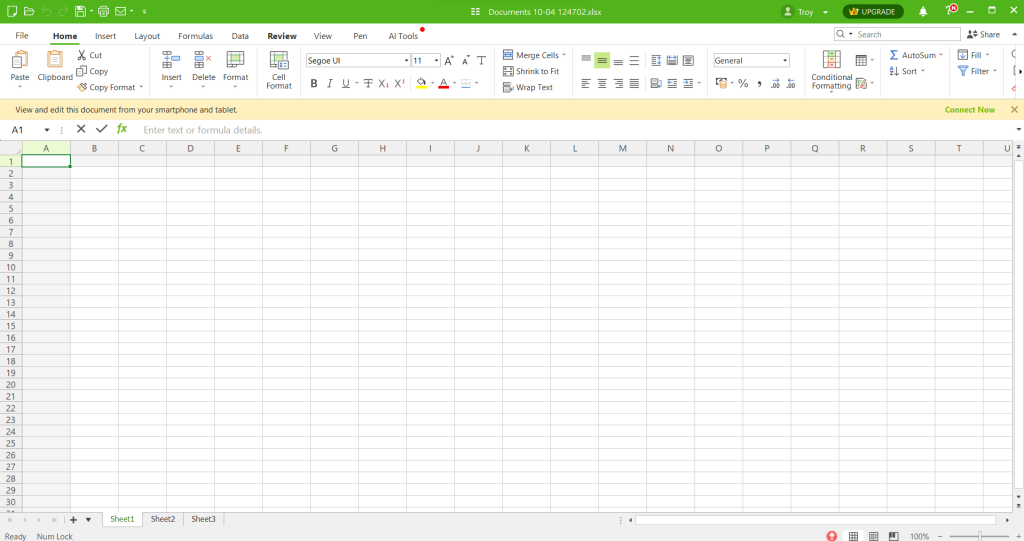 Polaris Office is another great software like Excel or any other spreadsheet software for that matter. It comes as a part of the Polaris Office Suite. It facilitates seamless creation and editing of spreadsheets across a variety of devices. It offers dynamic pivot tables for insightful data manipulation. You can even craft visually compelling charts quickly.
Notable Features
Comprehensive built-in formulas.
Comes with a host of AI Tools
Cloud integration.
Pre-designed templates.
Track and manage changes with version control.
Cross-compatible with Microsoft Excel.
Automatic data cleaning tool.
Contextual locks offer you better control and help avoid accidental edits.
Customize functions based on your needs.
Slight learning curve for beginners.
Pricing – Free for personal use 
8. Calligra Sheets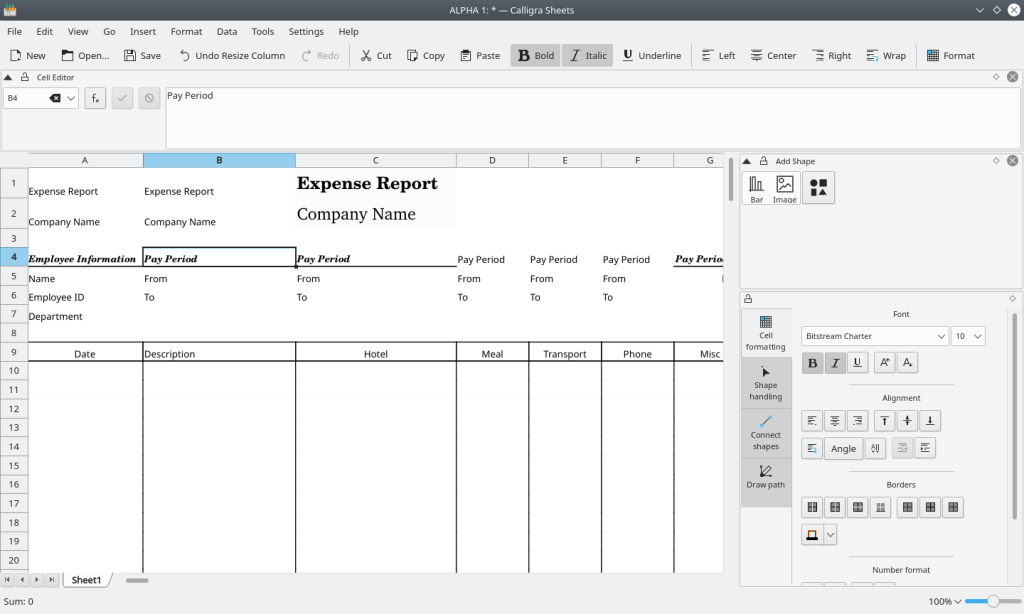 Calligra Sheets is a fully featured spreadsheet and calculation tool. It is designed for tasks that involve numeric data. It offers a variety of features such as chart creation, formula support, data analysis, and much more. As a part of Calligra Suite is can integrate well with other applications and help enhance your productivity. Let's have a look at its notable aspects.
Notable Features
Comprehensive formula list.
Data sorting and filtering.
Support for over 300 built-in functions.
Benefit from default templates.
The syntax and significance of each formula are given.
User interface familiar to many popular spreadsheet applications.
Support for Python, JavaScript, and Ruby with which you can automate tasks.
Occasional crashes and less customizability as compared to competitors.
Pricing – Free
9. SoftMaker Free Office (PlanMaker)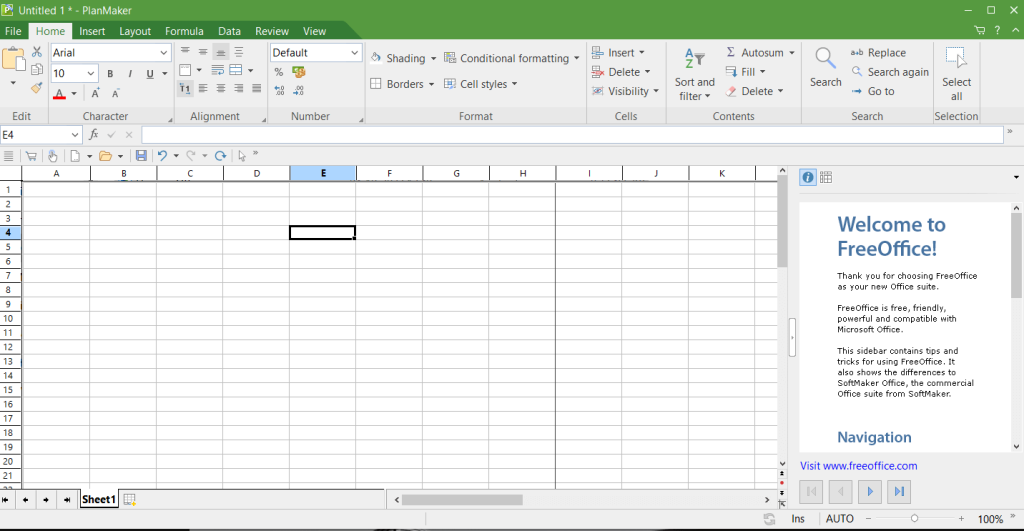 Another significant entry in the list is – SoftMaker Free Office which is one of the best spreadsheet software for Windows 11 PC. It comes as a part of SoftMaker Free Office suite. In terms of spreadsheets, the application that you will be working with is PlanMaker which bears the same interface as programs like Microsoft Excel.
Notable Features
Conditional formatting lets you assign unique colors to the highest and lowest values, for example.
Comes with data consolidation, pivot tables, scenarios, special filters, data grouping, and AutoFilter.
80 different 2D and 3D charts.
Syntax highlighting and formula auditing functions help identify trouble spots quickly.
GDPR alternative to Microsoft Excel.
Swap workbooks between Microsoft Excel and SoftMaker PlanMaker, and vice versa.
Create PDFs from your workbook; you don't need to install additional software for the same.
Limited Macro-related features.
Pricing – Free
10. HancomOffice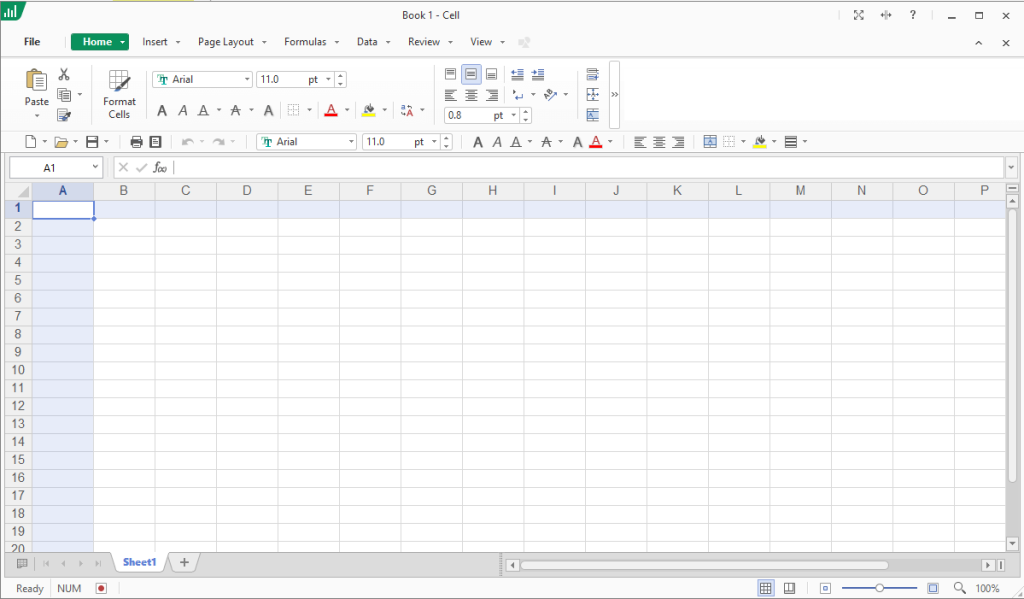 Last but not the least in consideration, Hancom Office stands out as one of the most popular and handy spreadsheet tool for Windows users.  It lets you perform various calculations and also helps in arranging data. With it, you can manipulate data easily. It has an intuitive data interface. It stands out with its capacity to streamline even the most intricate tasks.
Notable Features
Modern formulas to perform complex calculations.
Advanced data validation.
Facilitates teamwork and collaboration.
Streamline task automation.
Learns data patterns and helps save time.
Efficient data sorting and filtering.
Various data visualization tools.
Installation crashes on some PCs.
Pricing – Free 
Unleash Data Power: Top Spreadsheet Software for Windows
No matter how it is that you want to present, analyze, or interpret data, the above spreadsheet software for Windows will help you handle large datasets with utmost ease. You can leverage the power of a spreadsheet software and analyze business data, manage student/ employee attendance and performance throughout the year, track the direction in which your budget is heading, monitor sales performance, and forecast business outcomes, in fact, there is just no end to the things you can do.
If there is a spreadsheet software that you use on your Windows PC and that didn't make it to the list, do let us know in the comments section below.
Frequently Asked Questions
Q1. Which Is The Best Spreadsheet Software
In the above post we have enlisted some of the best spreadsheet software that you can download on your Windows PC. Software like Microsoft Office, LibreOffice Calc, and Google Sheets are used by users across all domains for personal and business use.
Q2. What is The Main Purpose of A Spreadsheet Software?
The main purpose of spreadsheet software is to store, manipulate, and analyze data that is spread across rows and columns. A Spreadsheet software also helps you present the processed data in the form of charts and graphs.
Q3. Which Is The Most Widely Used Spreadsheet Software?
Programs like Microsoft Excel, Google Sheets, and LibreOffice Calc are widely used by users from all walks of life to create and analyze large datasets spanning across an ocean of tasks such as budgeting, forecasting, data cleaning, etc.