How do you keep track of network downtimes, slow file transfers on networks, the responsiveness of various websites on your network, any danger of network-related malicious activities, and everything in between? A network monitoring tool can help you keep a track of all such tasks and take prompt actions when needed. In this post, we have enlisted some of the best network monitoring tools and software that can safeguard both your home and business networks.
Top Software Reviews
Rating
1.

SolarWinds Network Performance Monitor

2.

Domotz

3.

Nagios XI

4.

Fortra Intermapper

5.

PRTG Network Monitor

6.

Checkmk

7.

NinjaOne Network Monitoring

8.

Site24X7

9.

Datadog Network Performance Monitoring

10.

ManageEngine OpManager
Whether it is the home network or organizational network, there are various aspects that have to be monitored so that issues pertaining to speed and security can be dealt with on time. To do that, a network monitoring tool can be a handy application. A home network monitoring software guarantees smooth browsing and streaming. On an organizational level, network monitoring software helps mitigate any issues that can impact bandwidth, application performance, connectivity in various environments.
What Is A Network Monitoring Tool?
A network monitoring tool or software is designed to keep track of and manage network traffic flow over a network. It is mostly used by the network administrators and security staff of an organization to monitor aspects such as a network's uptime, availability, response time, any probable intrusions, IP addressing scheme, active devices on the network, and much more.
What Is The Need Of A Network Monitoring Tool?
Let's understand the need for a network monitoring tool by way of real-life examples.
Tracking and managing cloud expenses, optimizing resource usage and ensuring cost-efficient streaming –
For example, how Netflix employs network monitoring to control AWS costs.
Gain insights into data flow for global or regional connectivity –
For example, a software company that uses network monitoring tools for traffic analysis.
Keep track of various devices including IoT devices that are connected to a network –
For example, Cisco manages a vast network infrastructure.
Alerts on suspicious activity on a network
There have been instances in the past where cyber attacks such as phishing have been dodged because network monitoring tools detected suspicious traffic patterns.
Now that we know what a network monitoring tool is and the need for network monitoring, here are some of the best network monitoring tools and software –
Best Network Monitoring Tools For Windows
1. SolarWinds Network Performance Monitor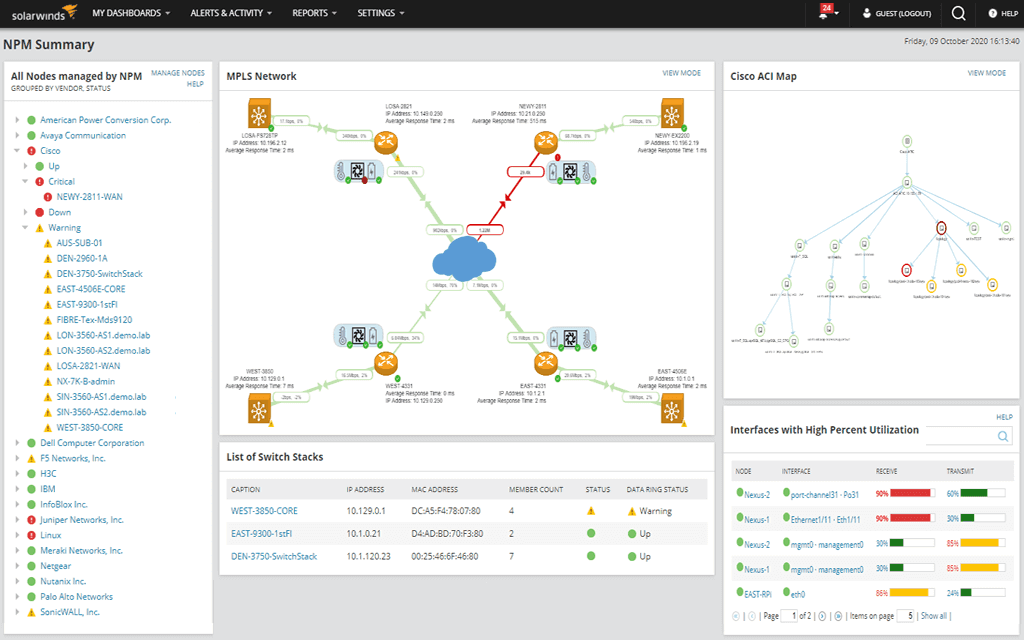 It is a powerful and affordable network monitoring software that lets you quickly detect, diagnose, and resolve any network performance-related outages and issues. It also helps in optimizing performance. It identifies problem areas and furnishes performance data. With this networking monitoring software, you can also track unusual behavior on your network and mitigate security threats.
Notable Features
Deep packet inspection and analysis.
Monitor and analyze fault, performance, and availability.
Multi-vendor LAN monitoring.
Monitor WAN Optimization Tools.
Analyze network availability.
Keep track of your network devices.
You can diagnose and troubleshoot network faults and performance.
Discover, map, and monitor devices.
Route load balancers properly.
Can be expensive for large networks.
Price – Free fully functional trial for 30 days. Pricing starts at $1785
2. Domotz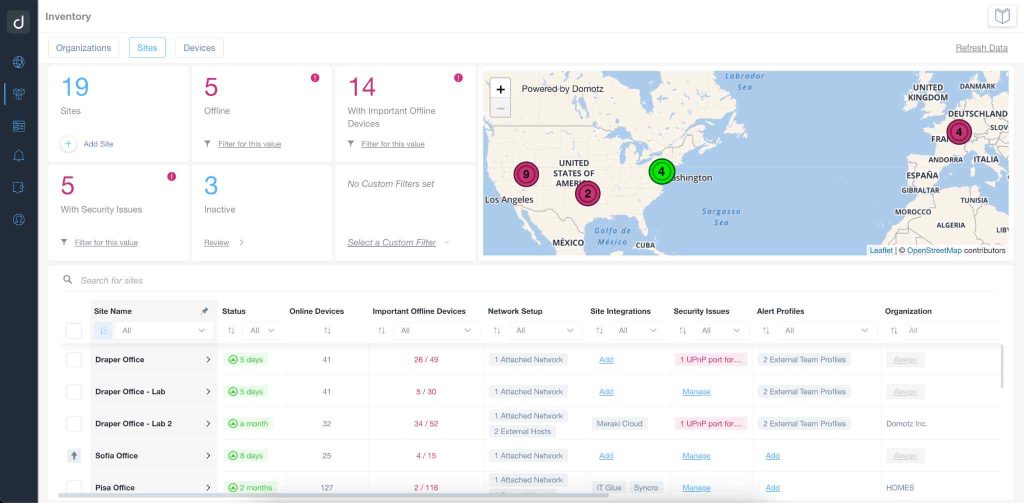 It is one of the best network monitoring tools which is used by System Integrators, MSPs, and Security professionals. With this tool, you can monitor any IT infrastructure and network. It offers features such as configure versioning and backup, management, creation of network topology map, integrations with PSA, and functionalities to streamline ticketing systems.
Notable Features
Be informed about vital devices and network events.
Monitor security-related events.
Integration with 3rd party systems.
Get device alert – status change, switch/ firewall/Wi-Fi alignment change.
Custom filters for better network monitoring process.
Receive real-time notifications about issues on your network or devices.
Instantly know when a new device joins your networks.
Get alerts on sensor (SNMP and SSH based)
Multiple VLAN support.
Can sometimes wrongly indicate that a device is offline when it is not.
Price – Free trial available. Pricing starts at $23 per month per site
3. Nagios XI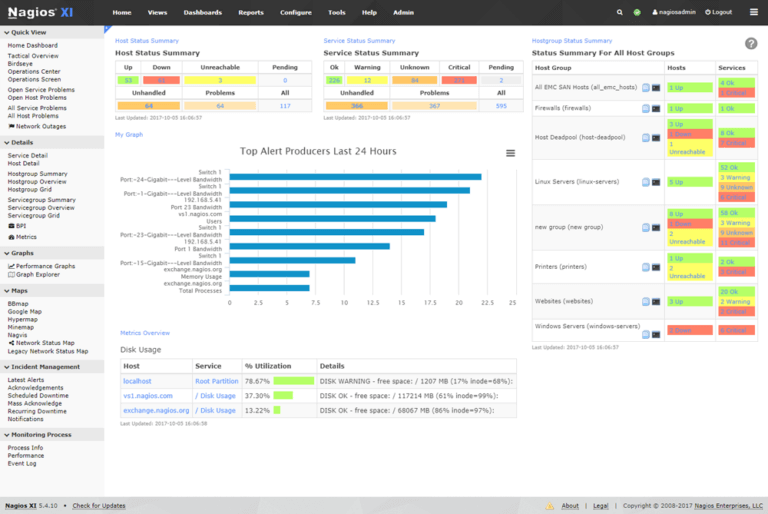 It is a network monitoring system that keeps an eye on IT infrastructure and continuously checks applications, servers, and services for issues. As it detects any problems, it promptly notifies administrators before the situation escalates. It ensures proactive management, helps minimize downtime, and maintains the health and efficiency of intricate network environments.
Notable Features
The home dashboard gives an overview of sources, network flow data, checks, and much more.
Get quick and in-depth insights on bandwidth, network traffic, and network health.
With specialized views, you can keep track of specific subsets of network flow.
Collaboration tools using which IT teams can work together and manage networks.
Automated alert system.
Get alerted of any suspicious activity on the network.
Monitor network usage of specific applications by way of individualized views, queries, and reports.
Seamless integration with other Nagios products.
30-day free evaluation period.
Set up and configuration can be complex for larger networks.
Price – Free trial available. Pricing starts at $2995
4. Fortra Intermapper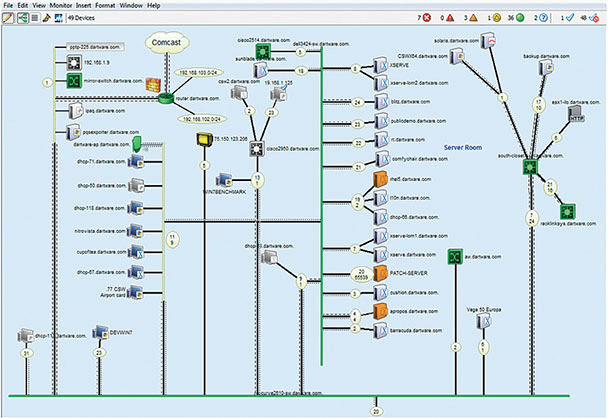 It is one of the best network monitoring solutions that helps monitor interfaces, devices, servers, and applications round the clock 24/7. It uses the SNMP protocol to continuously poll their current status. Once your network maps in real-time, there are various color-coded icons that give you a glance of the whole network and you can monitor the various performance aspects.
Notable Features
Create a network map and see what's happening on your network live.
Automatically discover and document every IP-enabled device.
Network capacity planning helps analyze trends and maintain a healthy network.
Various network management tools for all platforms.
AWS monitoring.
Intermapper sends real-time alerts in the form of email, text, and sounds so that you can fix the issue and increase uptime.
Issues are spotted in seconds.
You can customize the look of your map with background options and icons.
24/7 monitoring of devices, servers, interfaces, and applications.  
Limited scalability and reporting capabilities as compared to some competitors. 
Price – Free for 5 devices. Pricing starts at $303 for 25 devices.
5. PRTG Network Monitor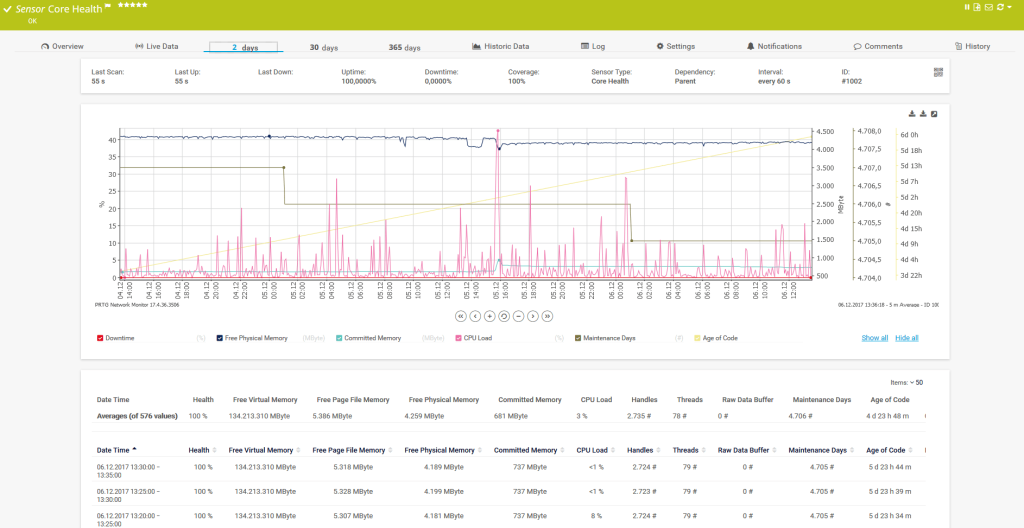 PRTG is a comprehensive network monitoring solution. It provides real-time insights into network performance, bandwidth usage, and device health. With customizable dashboards and automated alerts, PRTG empowers IT administrators to detect issues promptly, optimize resources, and ensure the seamless operation of networks, making it a valuable tool for efficient network management.
Notable Features
Automatic network discovery helps set up initial monitoring.
Custom maps and dashboards give you an overview of the entire infrastructure.
Monitor everything in your infrastructure – IT, IoT, and OT.
Get real-time alerts via email and push notifications.
Distributed monitoring in unlimited remote locations.
No vendor lock-in.
Customize reports and integrate only the information that you need.
Usability is flexible across all platforms – web, desktop, and smartphone.
You have full access to your data and configuration.
Lack of support for some network devices.
Price – Free trial available. Pricing starts at $1899 (one-time payment)
6. Checkmk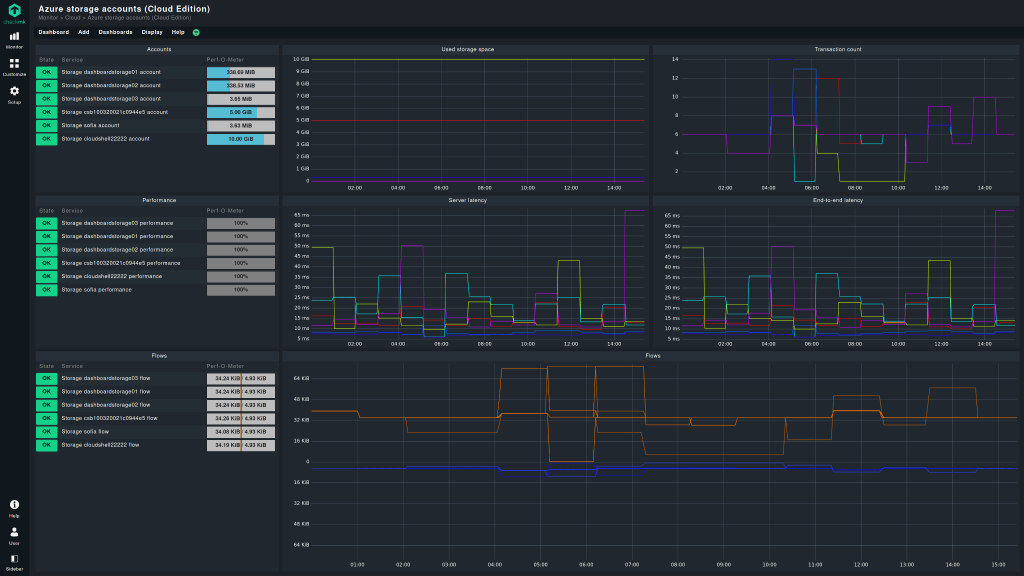 As a network monitoring utility Checkmk gives a complete view of your network infrastructure. From data centers, public cloud providers, containers, servers, and more. It lets DevOps and ITOps teams run IT at its best performance as far as the network is concerned. It offers real-time alerting, monitoring, and performance analysis.
Notable Features
Monitor cloud applications for networking, storage, and computation.
Cloud-ready monitoring agents; for instance, push mode enabled autonomous sending of TLS encrypted data to the Checkmk server.
Also monitor cloud-native services such as managed databases, microservices, and functions.
Automate monitoring.
Filter host and service labels with Boolean logic (AND/ OR/ NOT)
Easily keep track of resource consumption and how much the cloud environment costs you.
Integrate Checkmk with AWS and Azure.
Comes with better rights management for distributed organizations and MSP (managed service provider)
With the current version, Checkmk has integrated authentication with SAML in Checkmk's GUI so that you can secure your monitoring.
Price – Free trial available. Then $80/ month, billed annually.
7. NinjaOne Network Monitoring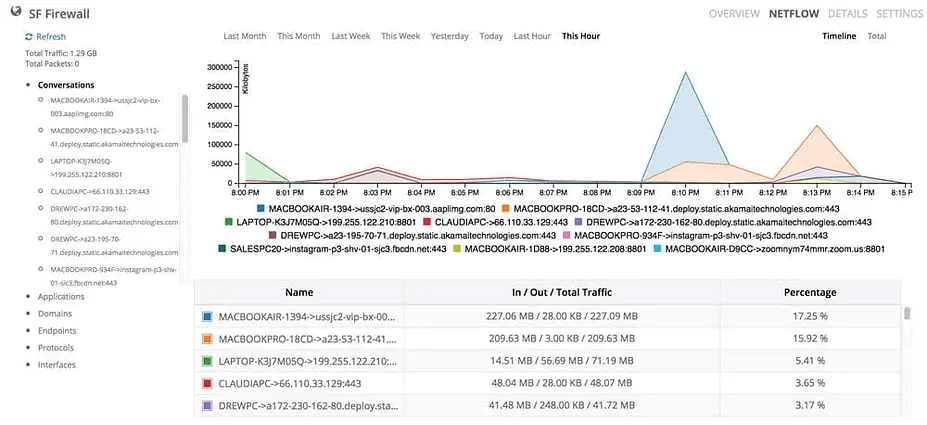 It is a network monitoring tool and a management solution that provides real-time visibility of network traffic, devices, and performance. It offers various features such as traffic monitoring and analysis, network discovery and mapping, remote access, and control. It also provides a variety of network troubleshooting tools. Here are some of its notable features.
Notable Features
Single pane visibility across all SNMP devices – routers, firewalls, switches, IoT devices, and more.
Conduct ping and latency tests.
Backup and monitor configuration.
NinjaOne's implementation of Netflow lets you zero down on applications, conversations, domains, users, and endpoints.
NinjaOne implements syslog that lets you monitor networking equipment's health comprehensively, from both hardware and software perspectives.
Real-time monitoring and polling.
Track port status, SNMP traps and monitor port map.
Get detailed traffic reporting.
Toggle variables to select which Syslog notifications you want to receive.
Users have reported glitches and bugs.
Price – 14-day free trial available.  Pricing is based on requirements.
8. Site24X7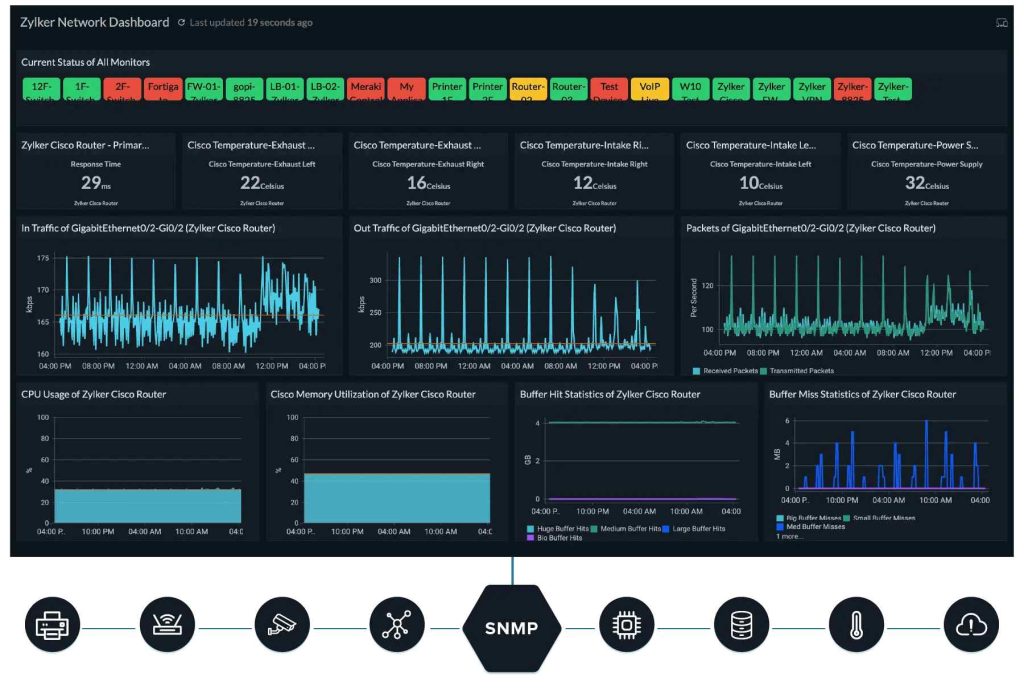 It is a multi-vendor-supporting and scalable real-time network monitoring solution. As its name suggests it is a solution that monitors your network 24X7. The tools that it offers provide deep observability into critical parameters of network resources. It also provides proactive insights that can stop potential issues from escalating.
Notable Features
Automatically discover devices present within the designated IP range or even WAN or LAN using SNMP.
Out-of-box support for over 11000 device types that makes device categorization simple.
Dedicated health dashboard using which you can view top devices based on packet loss, bandwidth utilization, and other factors.
Receive processed alerts for any trap that you have defined in SNMP MIB.
Support for over 450 vendors such as Cisco, Canon, HP, Juniper, D-Link, and many others.
You can automate discovery and mapping with Layer 2 maps and create your network schema using topology maps.
SNMP-based sensor monitoring.
Some users have reported slow performance.
Price – 30-day trial. For the paid version you can request a quote based on your needs.
9. Datadog Network Performance Monitoring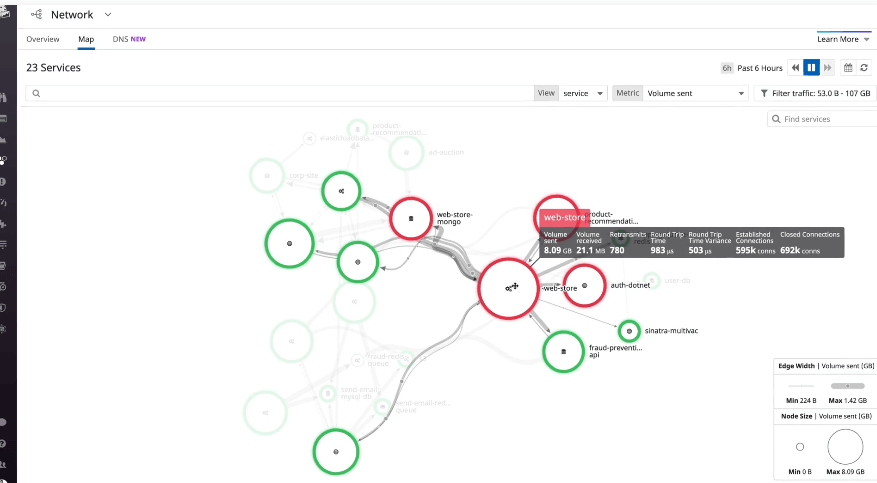 It is a comprehensive network performance monitoring system that gives you insights into the performance and health of your network. In a corporate setting, a network administrator can use Datadog Network Performance Monitoring to keep track of unusual spikes in latency that can affect user connectivity. Furthermore, they can even keep track of the increased response time of specific routers.
Notable Features
Track key network metrics such as latency, TCP retransmits, and connection churn.
Gauge network traffic across applications, availability zones, containers, and data centers.
Not just IP addresses, view communication between cloud regions, services, and pods.
Analyze DNS performance.
Monitor traffic health between two endpoints.
Manage cloud networking by zeroing down on services and teams that are responsible for traffic spikes.
Needn't SSH into individual machines for analyzing system-wide DNS performance.
Price – Free trial available. Pricing for Pro variants starts at $15 per host per month
10. ManageEngine OpManager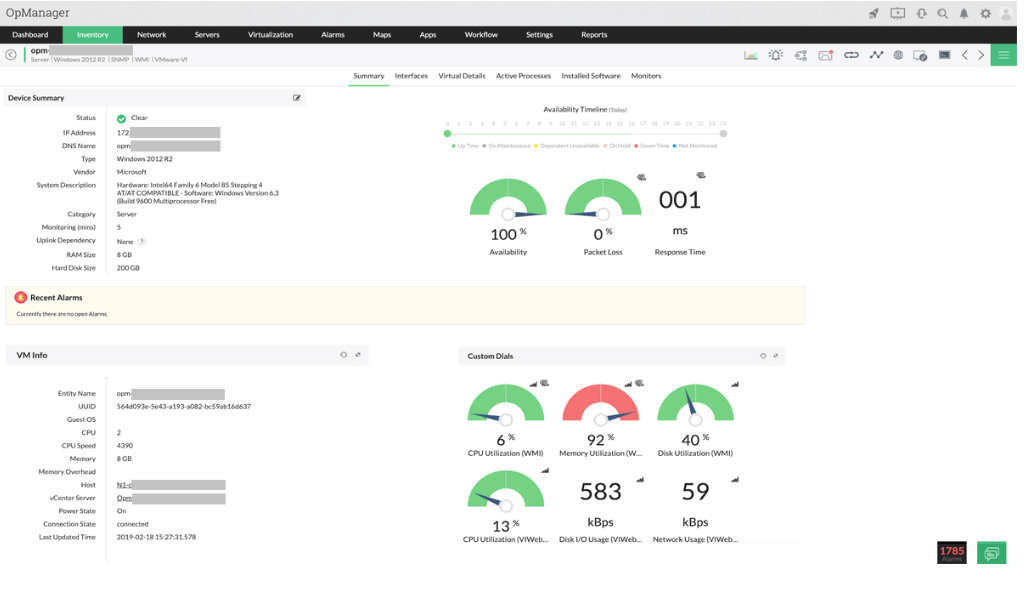 Last but not least we have ManageEngine OpManager which is a powerful network software that lets you gauge the various devices and aspects of your network such as switches, firewalls, routers, load balancers, wireless LAN controllers, VMs, servers, printers and other storage devices. It is an easy-to-use and affordable network monitoring tool.
Notable Features
Exhaustive visibility into availability, device health, and performance of any IP-based device.
It leverages Cisco IPSLA technology to visualize and monitor WAN links and troubleshoot WAN-related issues.
You can even monitor storage devices like Storage arrays, Fiber channel switches, and Tape libraries.
For network visualization OpManager provides features like topology maps, Layer2Maps, 3D floor, business views, and rack views for data centers.
Comprehensive wireless network stats for your wireless routers, access points, Wi-Fi systems, etc.
Distributed network monitoring.
You can color code alarms based on severity levels.  
Price – Free trial available. As for pricing, you can ask for a quote based on your needs.
Choose The Right and Robust Tool To Monitor Your Network
Your IT network infrastructure spans several dimensions ranging from performance to security. Especially, when you are accountable for not just your organization but also clients you need to have a utility like a network monitoring tool that can help you delve into aspects such as packet loss, device health, bandwidth usage, and many other aspects.
Frequently Asked Questions –
Q1. Which tool is used for network monitoring?
Nagios is a program that is frequently used for network monitoring. It is an open-source program that constantly monitors servers, programs, and services, giving administrators access to real-time information and ensuring proactive administration of the IT infrastructure.
Q2. What is the best way to monitor your network?
Using a comprehensive network monitoring tool like PRTG Network Monitor is the best method to keep an eye on your network. It provides real-time information on network speed, bandwidth consumption, and device health, allowing IT managers to quickly identify and fix network-related issues.
Q3. What is the best tool for networking?
Checkmk is one of the best networking utilities. It is a multi-environment IT monitoring solution that is open-source and of enterprise quality. Checkmk offers thorough network, system, and application monitoring, ensuring the dependability and efficiency of IT infrastructure.
Q4. What are the four 4 categories of network monitoring?
The four categories of network monitoring are Performance Monitoring, Fault Monitoring, Configuration Monitoring, and Security Monitoring. Performance monitoring focuses on the overall health and performance of the network, while fault monitoring detects and alerts on network issues. Configuration monitoring ensures proper network configurations and security monitoring focuses on identifying and preventing security threats.