Auslogics Video Grabber
Auslogics Video Grabber Review for Windows 11/10
Came across a spectacular tutorial, movie clip, or any other video for that matter that you wish to keep for later? Want to know how to download the video from that website in high definition? Check out Auslogics Video Grabber for Windows 11/10, a tool that can help you do just that.
Imagine coming across a fantastic tutorial that your favorite creator gave on a livestream. It features a rare skill that the creator showed briefly. How would you capture that moment or the complete livestream? There are some decent video grabbers out there that can help you do that. Auslogics Video Grabber is one such program that can help you download videos from a variety of platforms.
What Is Auslogics Video Grabber?
Auslogics Video Grabber is a program that can let you download videos from popular video-sharing websites such as YouTube, Dailymotion, Vimeo, Facebook, Metacafe, and many others.
The video downloader program doesn't just let you download individual videos but entire playlists. Much before grabbing the video you can set a predefined resolution and convert the video to a format that is compatible with your device (Android, iPhone, iPad or other).
System Requirements
Windows version compatibility – Windows 11/10/8/7
RAM – Minimum 1 GB or more
Hard Disk Space – 100 MB or more
How To Use Auslogics Video Grabber
Step 1 – Download, run, and install Auslogics Video Grabber
Step 2 – Copy the URL from which you wish to grab the video or entire playlists. Once you have done that, Auslogics Video Grabber will automatically identify the link and paste it into the Enter the URL of the video to download under the Add Video URL tab.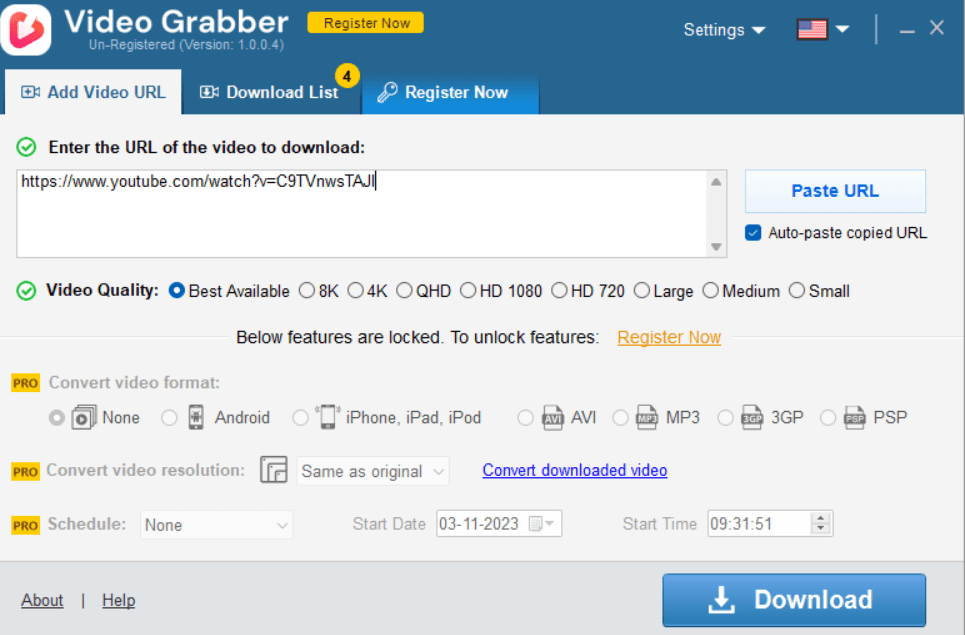 Step 3 – Configure settings like selecting a video quality, choosing video format/ device, video resolution, etc.
Step 4 – You can even schedule downloading tasks as well.
Step 5 – Click on the Download button from the bottom right corner of the screen. You will then be able to see the videos queued for downloading under the Download List tab. Here you can keep track of the various aspects of the videos being downloaded. And, it is from this place that you can directly head to the location where the downloaded videos will be saved.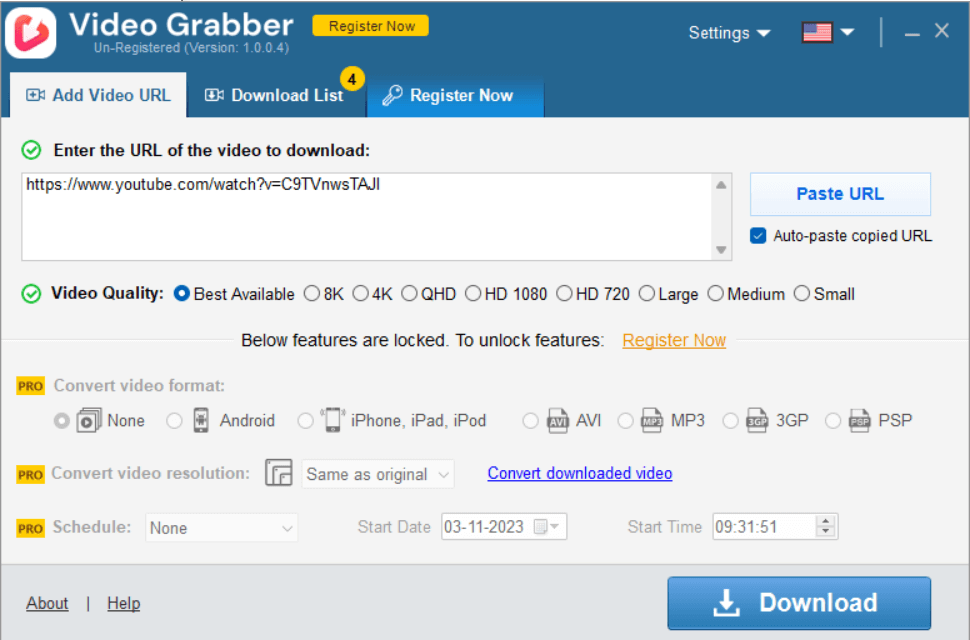 The interface of Auslogics Video Grabber is easy and simple to understand. The interface is broadly divided into 3 parts – The Add Video URL tab, the Download List tab, and the Register Now tab. The last tab can be used to register your product using a registration key.
When you click on the Add Video URL, you get the various options for pasting the URLs that you have copied. Here you can choose the video quality, resolution, format and even get an option to automate video grabbing tasks by scheduling them.
The next tab i.e. the Download List tab is where you can see all your fetched videos. Here you can even keep a track of their status, progress of downloading in real-time and view other aspects such as the size of the videos, and the number of videos queued for downloading. This area also lets you manage the queued videos. Here you can pause or resume the downloading videos, delete multiple videos, or check if you have added more videos for downloading.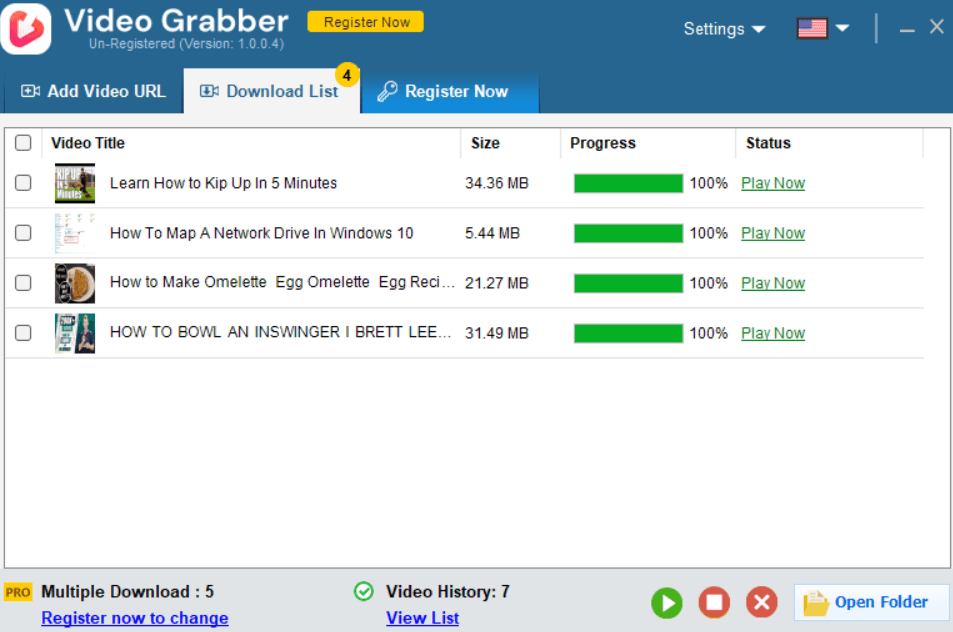 On the downside, once the videos are downloaded a notification pops up every time after the downloading is finished. We wished there was a way to bulk remove these notifications. Since, when there are various downloads, crossing each of the notifications can prove to be tedious.
– Grab Videos From Various Platforms
It's not just YouTube from where Auslogics Video Grabber lets you fetch videos. With it you can download videos from over 1000 video platforms. These include the likes of YouTube, Vimeo, Dailymotion, Metacafe, Bing, Facebook, Flickr and the list goes on.
– Choose The Resolution and The Device
You can download videos in HD or even Full HD quality. Apart from choosing the resolution, you can also choose the device for which you have downloaded a video from a website.
– Auto-paste Video Links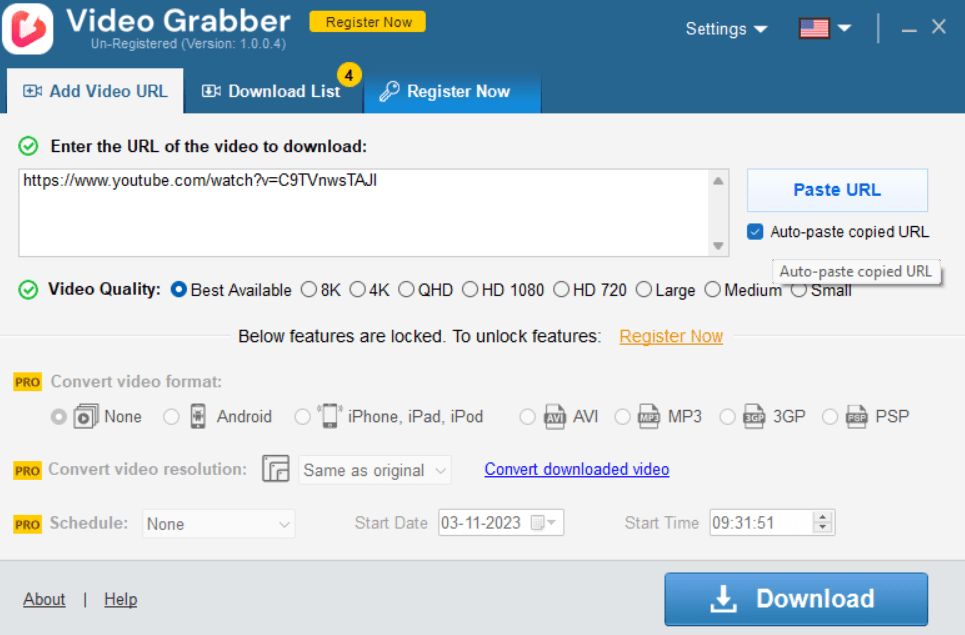 One of the highlights of Auslogics Video Grabber is that it automatically recognizes the link that you have copied and then pastes it automatically into the tool. This helps save time since you won't have to manually copy and paste links. This feature is optional and you can always check/ uncheck the "Auto-paste copied URL" checkbox to enable or disable the feature.
– Download Multiple Videos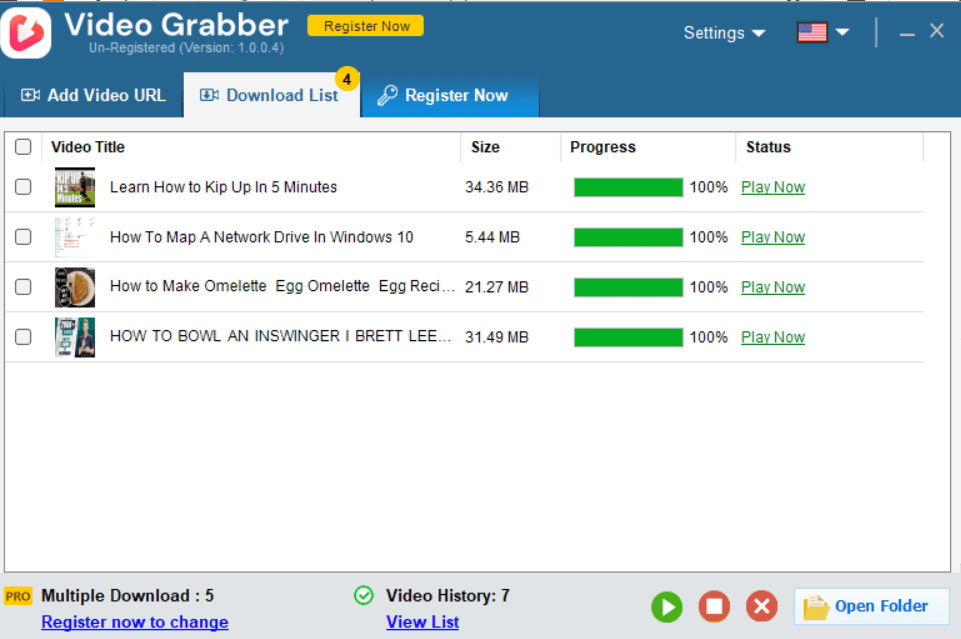 Auslogics video Grabber lets you download multiple videos simultaneously. This means you can keep adding links to the download list. Also, you needn't wait for the queued downloads to finish, you can pause or resume them whenever you want.
– Schedule Downloads
The video grabber utility lets you schedule downloading tasks. Here you can assign a convenient start date and start time at which you want the download to commence.
– Convert Video
Regardless of whether you have downloaded a video from a website or whether it is a video from a location on your hard drive, you can convert the video's format and resolution to another format and resolution. And, while you are doing that you can keep tabs on the progress and status as well.
– Use Proxy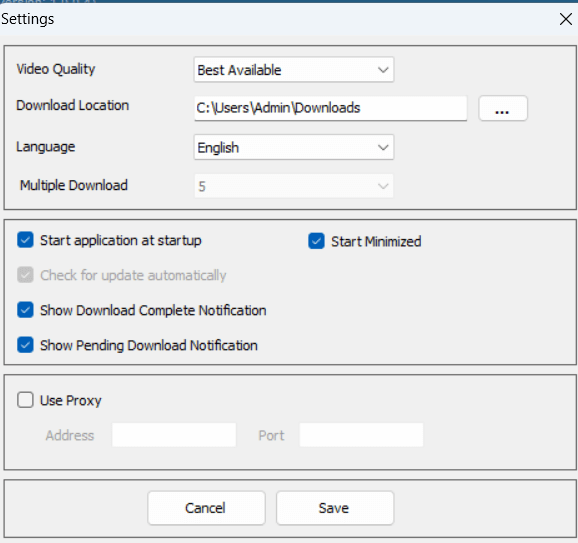 In case you use a proxy to connect to the network, you can furnish the proxy details and then download videos.
Auslogics Video Grabber receives regular updates with which developers ensure that you enjoy new features and don't run into any bugs or vulnerabilities. Although the tool notifies you as and when there is an update available, you can manually fetch updates by following the steps mentioned below –
Step 1 – Click on the Settings dropdown.
Step 2 – Click on Check for updates.
 If there is an update available you will be notified of the same promptly and then you can install it.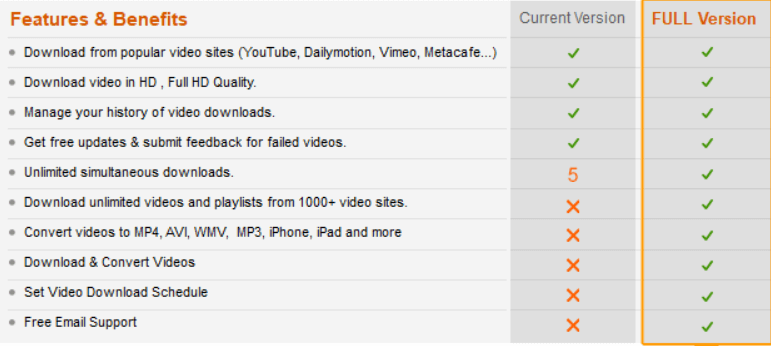 Before we talk about the price, let's have an insight into what the free version offers – You can use Auslogics Video Grabber as a free software for downloading videos. However, the free version restricts you to a few features. For instance, you won't be able to convert the video format, change the video resolution, or schedule tasks. Keeping that aside, the variant is well capable of doing everything else. You can download videos in the best definition possible and that too at a decent speed.
The premium version of  Auslogics Video Grabber is priced at $39.95. You can always check out for discounts that Auslogics runs on their products time and now. To know more about what features you can expect from the paid and free versions, you can refer to the screenshot above.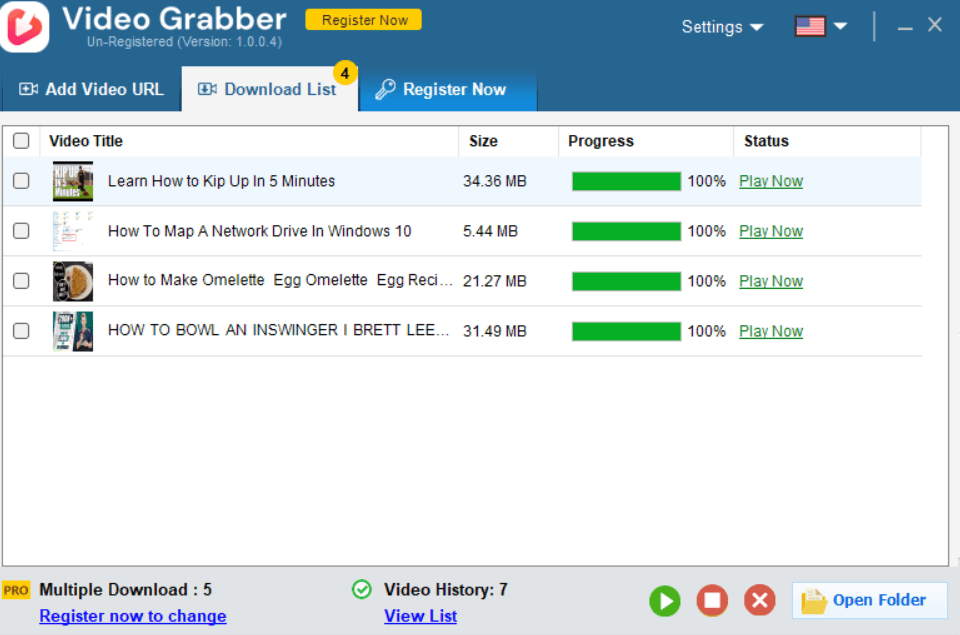 Auslogics Video Grabber is a decent performer if not the fastest. We randomly queued 4 YouTube URLs. The cumulative length of the videos was a little over 92 MBs and the cumulative length was around 12 minutes. The videos were downloaded in under 2 minutes which is still a decent performance even if you put it head-to-head with some of the best video grabber tools available.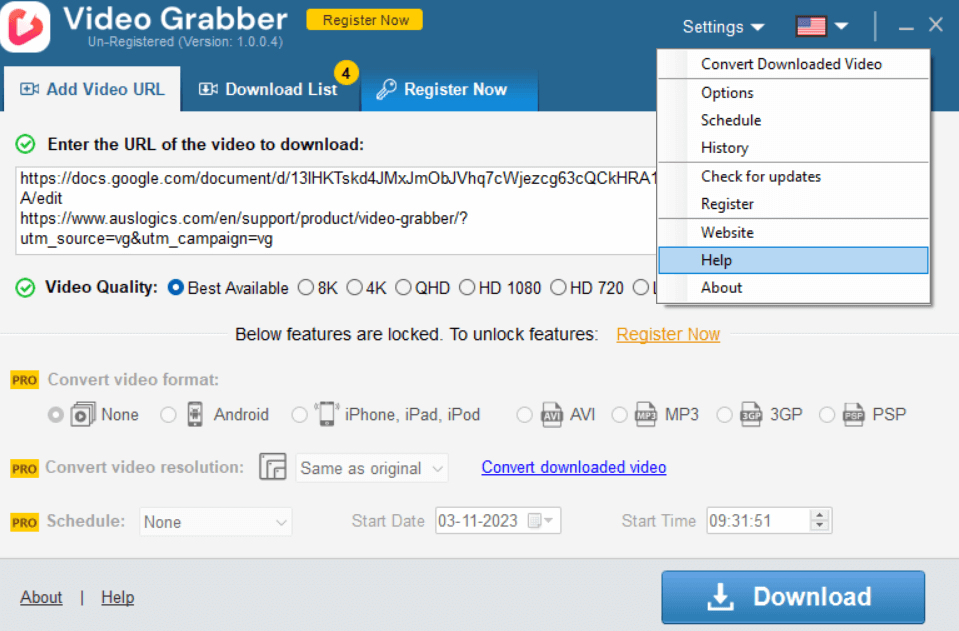 In case of any doubts related to the product or if you have license-related issues, there are various ways in which you can reach out to the customer support team.
First, you can click on the Settings dropdown and then click on Help. You will then be taken to the website from where you can get basic questions resolved.
You can directly head to the customer support page and get your queries resolved. You can also get in touch with the customer service department directly, and fill out your query via a form.
Grab Videos From Websites In A Hassle Free Manner
If you are someone who likes keeping videos from websites for later reference, Auslogics Video Grabbers is undoubtedly one of the best ways to download and grab videos from a vast array of websites.
It has a simple interface and it offers a variety of features with which you can download videos, and convert them to your desired format. Do try it out and share your experience with us in the comments section below.
For more such content, keep reading Top10PCSoftware. You can also find us on Facebook, Pinterest, and Flipboard.
Frequently Asked Questions
Q1. What is a video grabber, and how does it work?
A video grabber is a tool that downloads videos from online platforms using their URLs. It works by fetching the video file from the platform's server and saving it to your device.
Q2. Are video grabbers legal to use for downloading YouTube videos?
Downloading YouTube videos with video grabbers may violate YouTube's terms of service, but the legality depends on your location and usage intent.
Q3. Can I use an online video grabber to download videos from YouTube?
Yes, you can download an online video grabber to download videos from YouTube. However, you should only use them for private use and not for commercial use as this may land you into copyright-infringement-related issues.
Q4. Is there any free software for video downloading that you recommend?
Yes, there are many free software with which you can download recommended videos. Auslogics Video Grabber is one of them. Others include 4K Downloader, YTD Video Downloader and many others.